Over the weekend of November 4-5, the Perth Sailing Club held its annual Perth Waters Coaching Regatta.
The regatta is designed primarily to coach both young and old sailors whilst in racing conditions. Over the weekend 10 short course races were held.
The number of entrants has increased each year, this was the third year the event was held. There were 27 Open Bic's, 11 29ers, 11 Sabres, five Cherubs, two Junior Dinghies and one Javelin.
The PDSC engaged a number of coaches for the weekend, most of the coaches were home grown from the PDSC, including Brad Devine, multiple I14 National Champion; Russel Hanrahan, Multiple Javelin National Champion; Brien Hennessy, Multiple National Champion; Emily Horne; Ian Furlong, multiple National and International Champion; Denis Jones and Will Boulden. There were plenty of assistant coaches as well. All were guided by PRO Warren Drew where he made his presence felt at the start line.
A total of 10 races were held with five on Saturday and another five squeezed in on the Sunday. The morning races on Saturday started with a swinging easterly breeze by as usual is disappeared late morning – so only two races were held, which meant three for the afternoon.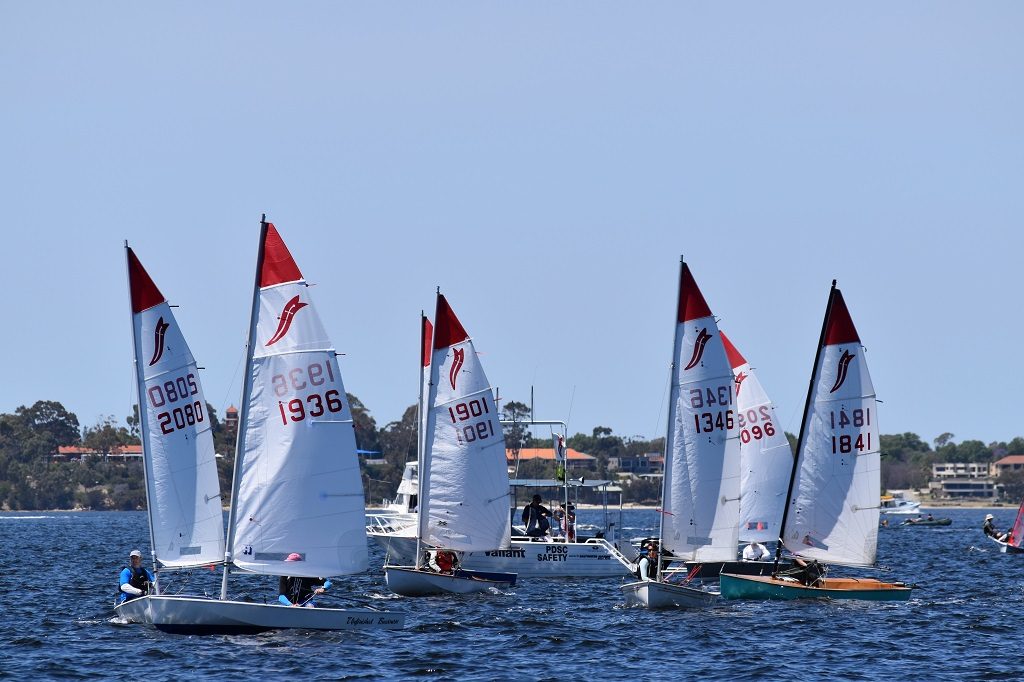 The Saturday afternoon breeze kicked in with a bang, coming from the west/southwest. This made looking for the shifts tricky. Some big congratulations go out to all the Silver Fleet Bic kids, they all managed to get around the course. Some of the kids are in their first full year in the Open Bics.
Sunday races were held in light southeasterly breezes. The morning was best with the PRO getting in three races before lunch. The afternoon was testing as the breeze was losing its strength. The PRO got race nine in straight away, but we had to wait a while for the last race. The breeze came in very light, but enough to get the boats around.
Results
Overall the event was very successful with the following results for each fleet:
Open Bics (Gold Fleet)
1st – Will Drew (Forward WIP Australia)
2nd – Rosalie Hennessey (2DesBicable)
3rd – Jenna Everett (Neptune)
Open Bics (Silver Fleet)
1st – George Elms (Bev)
2nd – Jai Senior (Wind Thief)
3rd – Will Arnold (Barely in Control)
29ers
1st – Kieran Bucktin & Shannon Wright (Till I Collapse)
2nd – Axel Fleet & Jack Luketina (Grater)
3rd – Genevieve Hennessy & Ben Gallagher (Feminist Rage)
Sabres
1st – Clayton Erwin (Unfinished Business)
2nd – Ian James (Prickle Foot)
3rd – Kelly Miragliotta (Touche)
Cherubs
1st – Virginia Horn & Jacques Audet (Serenity Now)
2nd – Brad Luketina & Andrew Briggs (Pandamonium)
3rd – Cam Rule (Todd McVee) & Latishia Cook (Fine Mess)
Junior Dinghies
1st – Tom Devine & Ethan Miragliotta (Fast & Furious)
2nd – Caelan Grimwood & Hugh Kilpatrick (Sondrio One)
The Management Committee of the Perth Dinghy Sailing club would like to send out a big thank for all the members and friends who volunteered their time and assisted over the weekend.