Another poor day weather-wise at the Hempel World Cup Series – Round 3, with race officials forced to cancel all racing in the Laser and for the 470s, which are yet to race, while the Laser Radial sailors started their campaign with just one race and the 49er Blue fleet also got one race in.
In the 49er skiff Blue fleet, where one of two scheduled races was held, Australian Sailing Squad members David and Lachy Gilmour came away with a second place. They are provisionally in third overall.  The three remaining Australian 49er teams are in the Yellow fleet; their races were cancelled, so are one race behind the Blue fleet.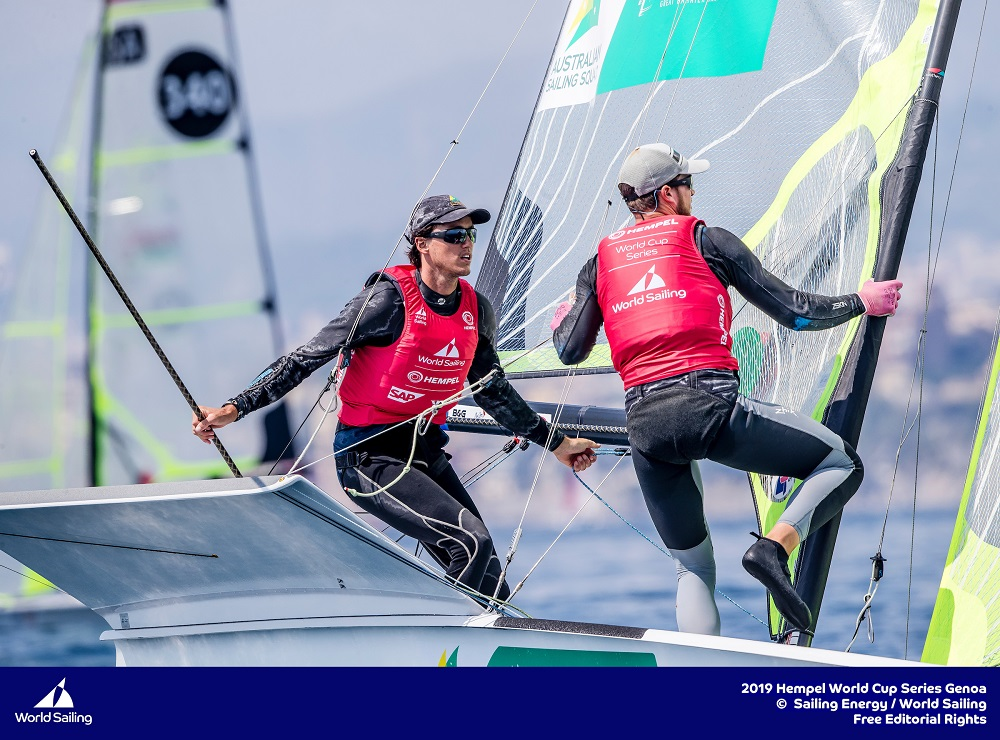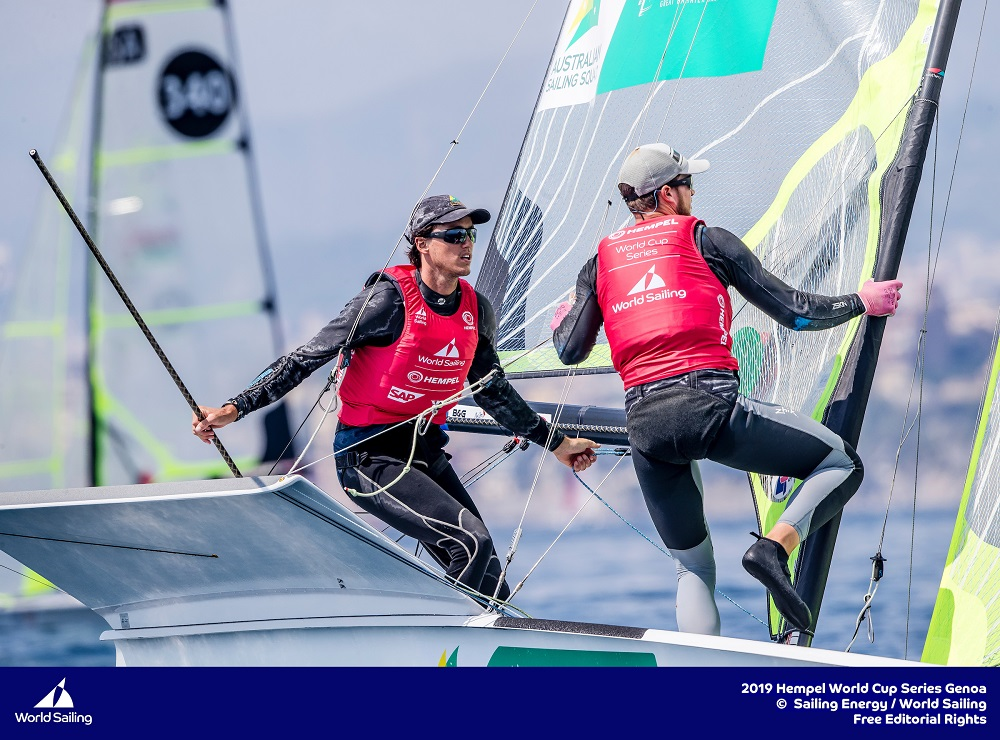 "We were pretty lucky to get a race in; the breeze was just above the limit of too light. It was around 3-4 knots," Lachy said. "As we were finishing, it went to custard and that was the end of the day for us.
"It was another day of waiting for breeze. Unfortunately when it came, it didn't hang in. We'll have to go out again tomorrow to get to the qualifying four races stage. The Yellow fleet will have to try for two races. It is a bit frustrating – but it is what it is – everyone is in same position.
"At the front of the fleet where we were, you were getting more breeze than the guys at the back, so we felt like we were in 4 knots, they probably sailed in 2 knots. It wasn't that shifty, it was more pressure dominated today. If you sailed into a dead spot, you got penalised for it. We managed to pick our way through the course avoiding the glassy spots," he said.
"We were pretty happy with how we sailed. The boat felt good and we had superior boat speed," he ended.
In the Laser Radial fleet, the Squad is represented by West Australian athlete Elyse Ainsworth, who sailed in the Yellow fleet today. After a delay, she was away in a 4-knot breeze and came in 15th overall. Officials started a second race for the Blue fleet, but were forced to abandon it as the breeze petered out.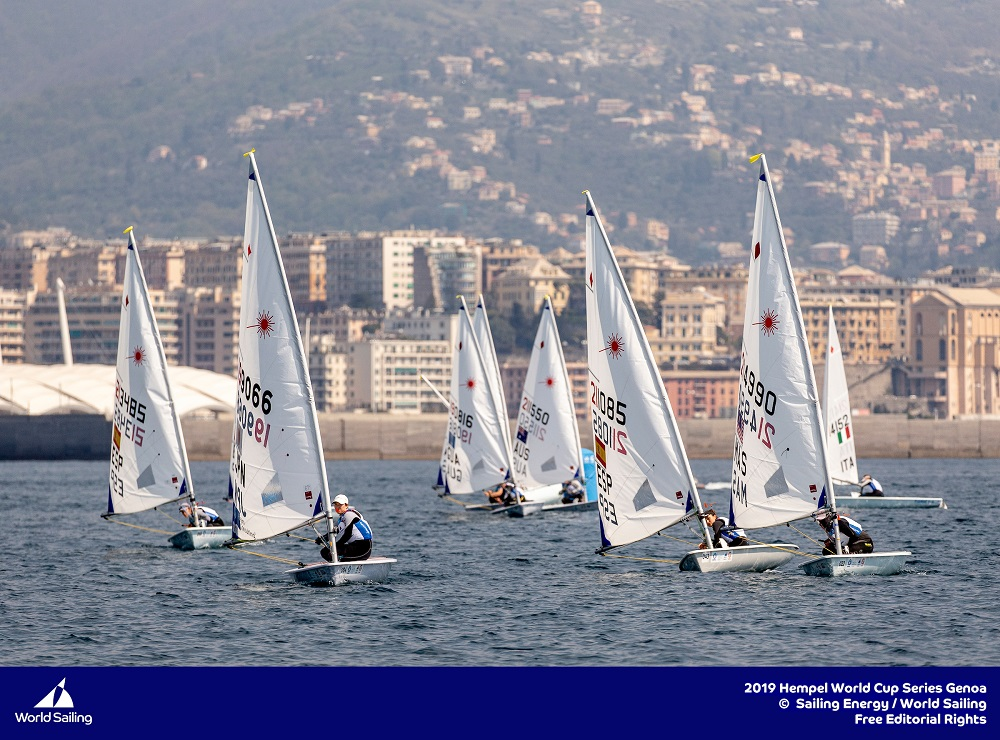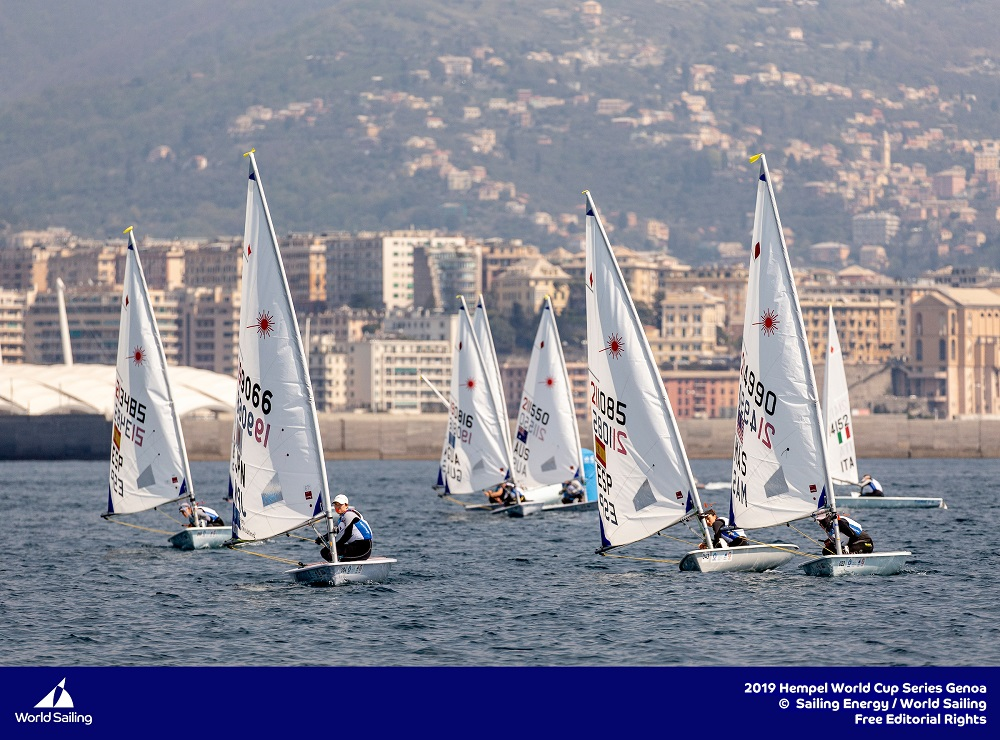 There was no racing for the 49erFX class. The Yellow fleet is still to have a third race to catch up with the Blue fleet.
Once again, and as forecast, conditions were too light to start racing at the appointed times. The 49ers, Laser Radials and 470s left the beach for the racetrack shortly after midday, as race officials were hopeful winds would lift over the 3 to 4 knots range. However, they were forced to hoist the AP flag for many classes before allowing some to race.
Racing at the Hempel World Cup Series – Round 3, Genoa, continues Thursday local time and closes on Sunday 21 April with the final Medal Races.
The Genoa campaign and others this year are crucial for selection to the 2020 Tokyo Olympic Games.
Full results: www.manage2sail.com/en-US/event/3da4c9de-e26e-4671-bb00-885c79a4cd47#!/results?classId=634a02bd-8080-4bcb-bdea-e70f5862e1af
Australian Team results (overall place/name/results/points):
49er (65 boats) – one race on Day 3 for Blue fleet only
3rd David and Lachy Gilmour 2, 7, 2 = 11 points
Yellow fleet – no racing on Day 3
20th Sam and Will Phillips 9, 15 = 24 points
33rd Thomas Needham and Joel Turner 10, 21 = 31
44th Kurt Hansen and Simon Hoffman 27, 12 = 39
49erFX (49 boats) – No overall standings as Yellow fleet is one race behind
34th Amelia Stabback and Caitlin Elks 11, 19, UFD = 56
39th Tess Lloyd and Jaime Ryan 12, 22, 10 = 44
42nd Natasha Bryant and Annie Wilmot 19, 19, 6 = 44 points
470 Men's (44 boats) – No racing as yet
Mat Belcher and Will Ryan
Chris Charlwood and Josh Dawson
470 Women's (35 boats) – No racing as yet
Nia Jerwood and Monique de Vries
Laser (109 boats) – No racing on Day 3
5th Luke Elliot 3 = 3 points
Laser Radial (67 boats) after one race
29th Elyse Ainsworth 15 = 15
By Di Pearson/Australian Sailing Team media manager
Photos – Beau Outteridge