New Zealand's Kristen School has held off a fast finishing Westminster School after the deciding race was forced to be abandoned to take out this year's Pacific Rim International Teams Racing Regatta in Algies Bay on a count back.
Meanwhile, New Plymouth School took out a second consecutive Ladies fleet championship, finishing ahead of fellow New Zealand team Napier in second and the Cook Islands team in third.
The final day started with a shifting 8 to 10-knot breeze and the race committee were able to get through plenty of races early on. However at midday local time, a huge rain cloud sucked all the wind up forcing the AP flag to be flown for a few hours.
After three hours of waiting on the changeover boats in the pouring rain, the race committee decided to try for one last race, which would have been the decider for the championship between Westminster and Kristen.
The race was started in about three knots and the sailors were half way up the final beat when the time limit ran out and the race was abandoned. Westminster missed out on the title as Kristen took the win on a count back.
The two Australian Ladies teams, Ascham School and Canberra Girls Grammar, finished fourth and fifth respectively and were just not quite good enough to match it with the teams across the Tasman.
In the overall Pacific Rim points championship, New Zealand finished ahead of Australia, winning convincingly 16.5 points to 6.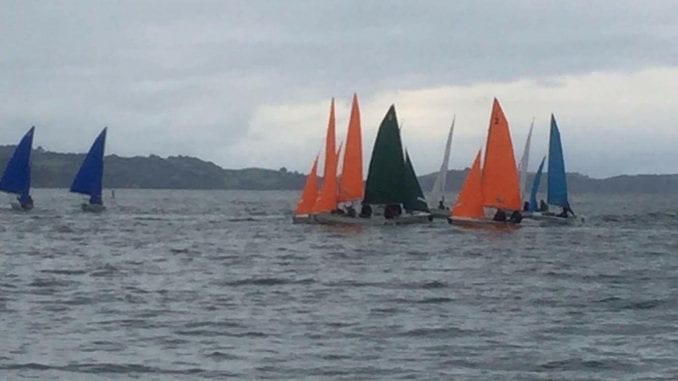 Final results
Pacific Rim Open Fleet
Kristen
Westminster
Wentworth
Keri Keri
Friends Blue
Friends White
Pacific Rim Ladies Fleet
New Plymouth
Napier
Cook Islands
Ascham
Canberra Girls Grammar
Overall Pacific Rim Points
New Zealand (16.5 points)

Australia (6 points)
Congratulations to all the Australian teams, which represented their country with pride.
Stay tuned in the coming days for more pictures of the event.