Heat 2
Heat two of the Ceduna Foreshore Hotel/Motel Skate Nationals started in a southerly of around 12 knots gusting up to 16 knots with a windward return course set.
A tight tussle between 'On the Road Again', 'Any Which Way' and 'What Now' ensued for the whole three laps with it coming down to the final windward leg to the finish.
Matt on Megasaurarse took a dive off the 10 footer on the first downwind leg but managed to hold on and scramble back on.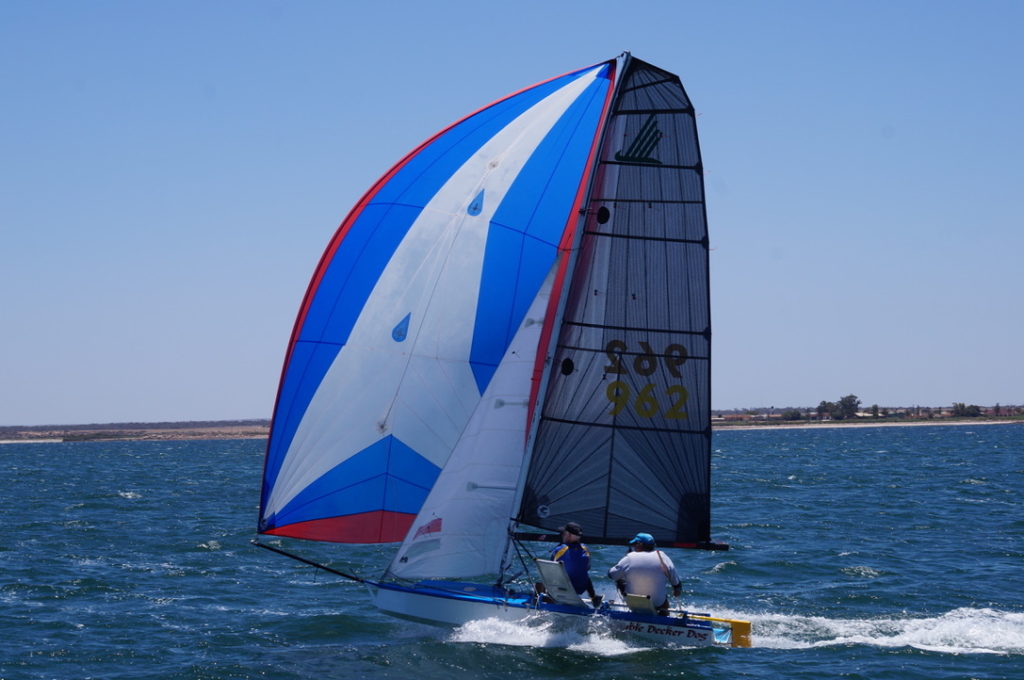 Greg Patterson showed amazing speed until needing to turn the corners!
Final Placings:
1st Steve Hudson & Bohdi De Freitas – On the Road Again
2nd Dave Luck & Glenn Crichton – Any Which Way
3rd Greg Patterson & Yianni Foufas – What Now
All boats finished the course within 14 minutes from 1st to 9th place.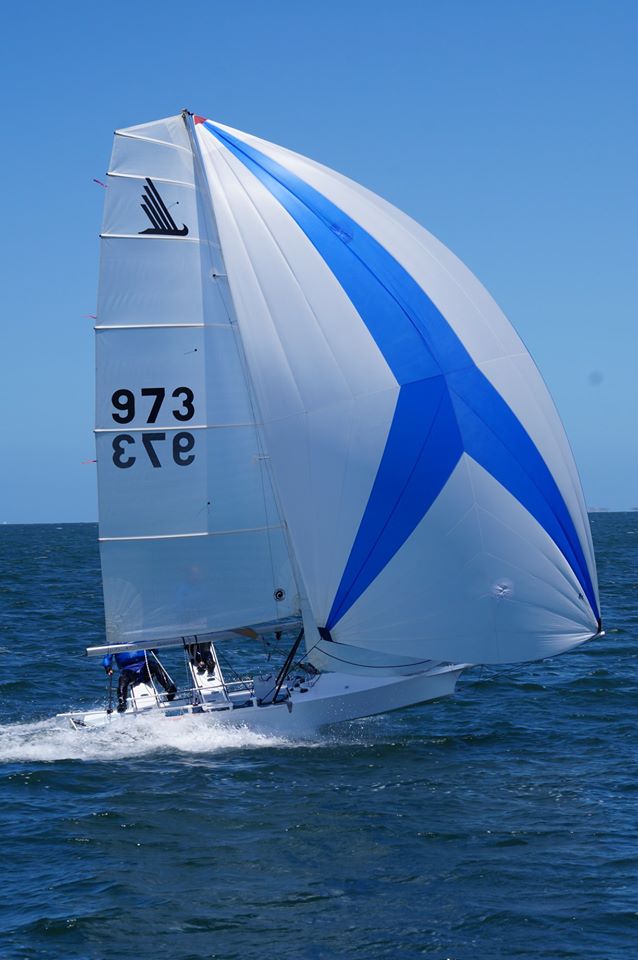 Heat 3
What a Race! 15-knot southerly, windward return course again. Once again the same boats 'What Now', 'On the Road Again' and 'Any Which Way' were at the front of the pack for the first work.
On the first kite run the action really started with a collision between 'On the Road Again' and 'What Now' in a port/starboard incident which was finalised in a protest. 
'On the Road Again' ended up with a broken rudder and managed to float their way to shore to retire. 'What Now' were able to continue in the race. 
'Any Which Way' was then left in the front with 'Gobstopper' on his tail followed by 'Natural Juices' and not far behind was 'Megasauarse' in fourth place.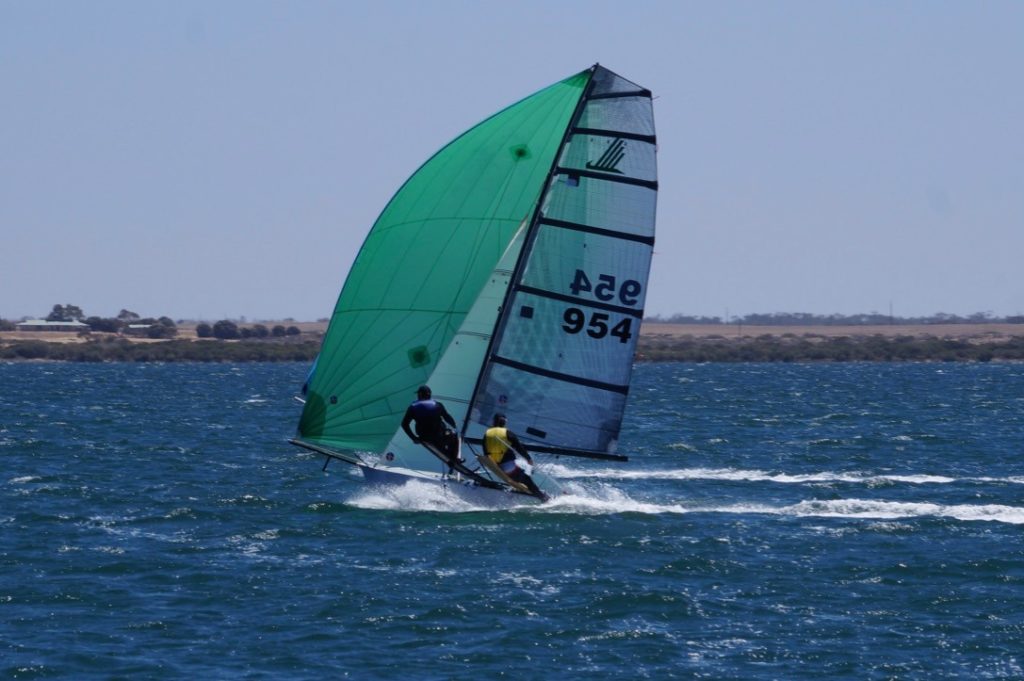 Brain fade set in on the third work with the crew of 'Any Which Way' going through the finish line one lap early as they didn't count their laps. 'Gobstopper' also got confused and followed them through the line a lap early.
This means both boats were disqualified as it was stipulated not to cross the start/finish line at any time during the race unless you were starting or finishing. 
This then opened up the playing field on the third windward leg, 'Natural Juices' was in first and 'Megasaurarse' right behind them in second place. The final downwind leg had 'Natural Juices II' going too far before gybing and were unable to make the mark which forced an early spinnaker drop and two-sail reach to the mark.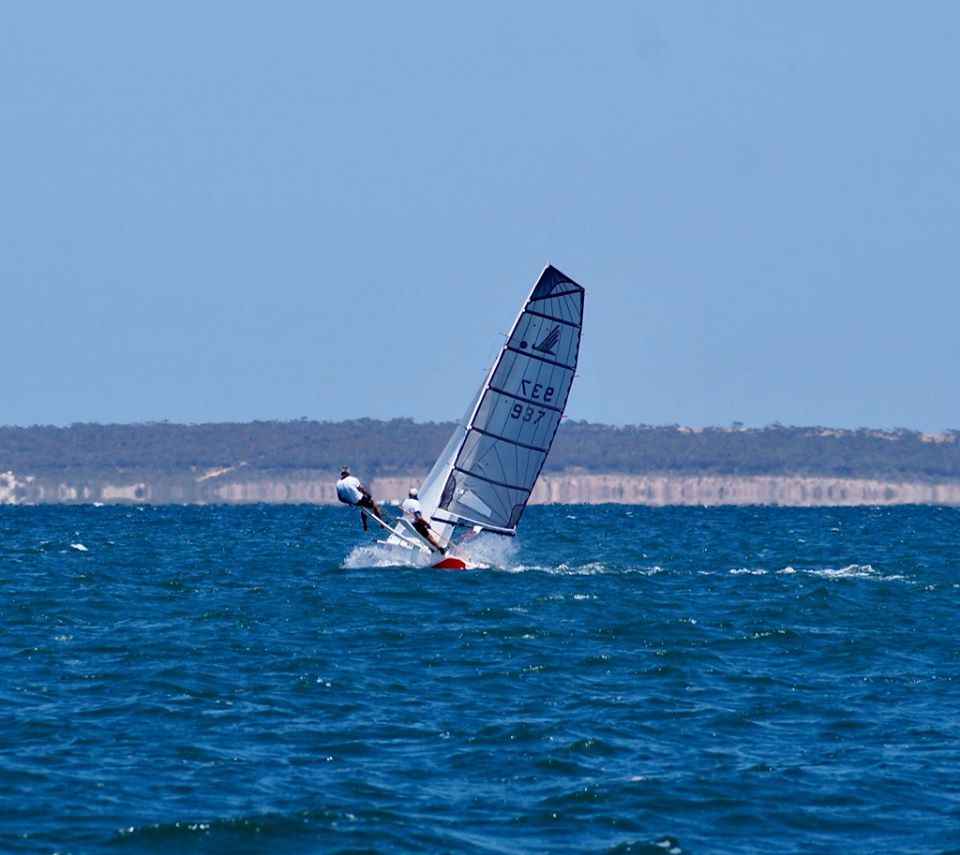 'Megasaurarse' and 'Take it Easy' capitalised on this and carried their kites to the bottom mark in first and second.
'Megasaurarse' continued on to claim a maiden victory in a National heat, congratulations to both Paul and Matt on this magnificent effort.
Final Placings:
1st Paul Shiner & Matt Ferris – Megasaurarse
2nd Mick Winney & Emma Edwards – Take it Easy
3rd Ken Davies & Lachie Schroder – Natural Juices II
Full Results can be found here 
'On the Road Again' was awarded average points for the race so this heat will be updated once all heats have been sailed.
With three races and three different winners the titles have opened up, with Race 4 on Thursday that will be crucial.
– By Brad Bowman, Ceduna Sailing Club