2016 VR Sport.TV International 14 World Championships – Day 1 
The first day of the 2016 VR Sport.TV International 14 World Championship was a demonstration of why this is one of the most popular development classes in the world. Just under eighty boats are registered and with strong contingents from across the globe including Australia, USA, Germany and the UK.
Embed code:
The fleet launched into a brisk, gusty 12-15 knot offshore breeze, and the competitors flew down wind through the lobsterpots to the starting area with their spinnakers up. Jan-Martin Luehrs, GER 2, described the conditions as "almost flat water, nice wind conditions, not to scary, but lots of fun".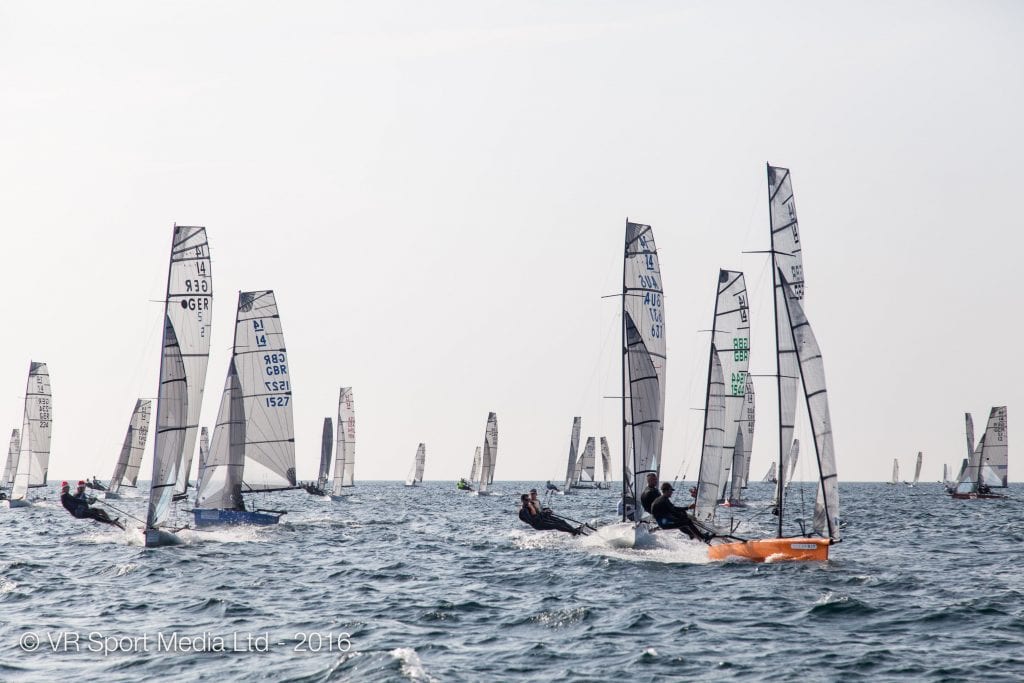 Seconds after the start gun at 10:00, the entire fleet had shot off the line and were half way up the beat with an even split across the course. The 14's were tightly packed together, the crews fighting for inches, as they flew across Quiberon Bay. As the race wore on however, the fleet was not without its casualties, with several crews going swimming, and others being forced to retire due to breakages. By the penultimate lap, Truswell and Pascoe, the reigning World Champions ominously crossed the finish line first, closely followed by Gilbert and McGrane with Massey and Hillary. The British domination stopped there though, as Hayter and Neighbour, the Aussie duo, clinched fourth from Katie Nurton and Nigel Ash on the finish line.
The atmosphere in the dinghy park was jovial on return, with even the retirees indulging in a few beers before checking out the newest innovations, and swapping stories from the day. Roger Blasse, AUS 657, recounted how there was "a loud bang, and everything came crashing down" in reference to his delaminated mast step.
The Australians have proved their versatility in the lighter breezes with 3 boats in the top 10 and a couple of guys sniffing around just outside. With the weather seeming like it will be Light-moderate for the next couple of days, it will be interesting to see who can make inroads into the leaders.
Results:
Top 10
GBR 1553 Trusswell/Pascoe
GBR 1541 Gilbert/Mcgrane
GBR 1519 Massey/Hillary
AUS 666 Hayter/Neighbour
GBR 1557 Nurton/Ash
AUS 661 Devine/Furlong
Ger 28 Borkenstein/Dietrich
AUS 672 Alexander/Wilsdon
GBR 1530 Jones/Fitzgerald
Other Australians
12th  AUS 656 Krstic/Lanati
14th AUS Sloss/Cameron
16th AUS 659 Sloss/Elliot
23rd AUS 650 Edmunds/Layfield
31st AUS 626 Mahar/Mahar
35th AUS 628 Strong/Cameron
37th AUS 638 Strong/Vaughan
41st AUS 674 Vickery/Vickery
49th AUS 675 Patterson/McGeoch
50th AUS 669 Vickery/Vickery
DNF AUS 631 Vance/Von Felton
DNF AUS 667 Tomamichel/Wangel
DNF Aus 657 Blasse/Gilliganoverall results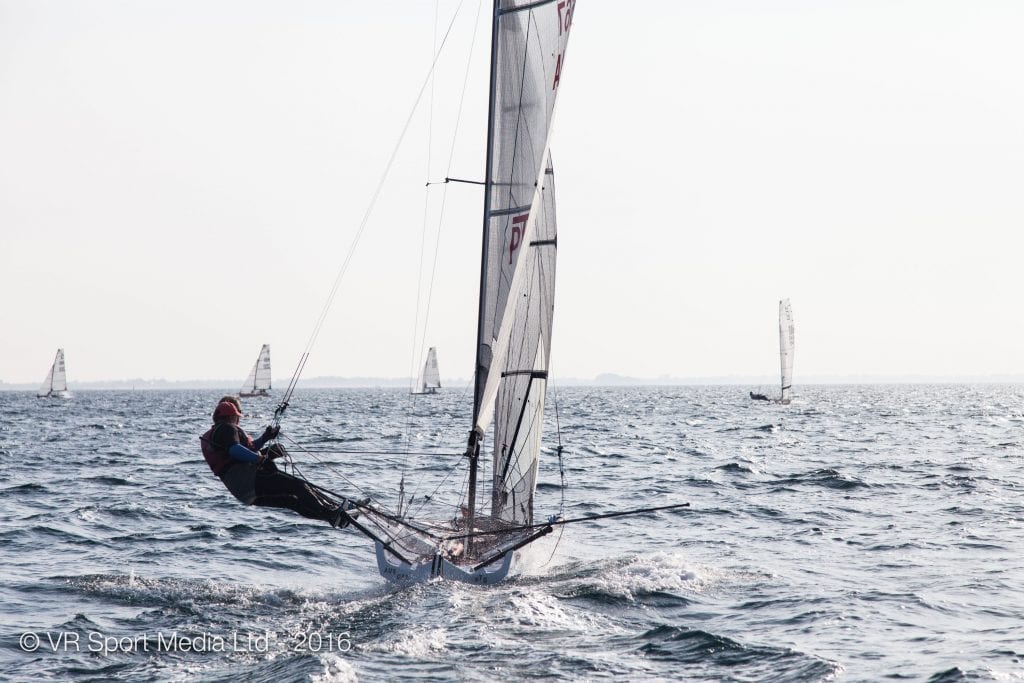 Down Under Sail through VRsport.tv Media Crew will be following the racing and the banter throughout the World Champs with daily reports and videos.