Experienced yachtsman David Lynch and his son Andrew, newly initiated into the joys of ocean racing, have successfully sailed their Northshore 369 Pegasus into the lead of the of the West Offshore Products Coastal Sprint Series, hosted by the Ocean Racing Club of Victoria (ORCV).
The pair, who finished Race 3 in second place to Justin Brenan's Alien on the weekend, are co-owners of Pegasus. And while the duo has raced together one way or another for 40 years, Andrew is new to offshore racing, launching into it via the ORCV's new Category 3 series.
"We've had two boats. We co-owned an 11 Metre One-Design, Blue Tack, and now we have Pegasus. We've been racing it together for two years, but this is our first offshore series with it," Andrew says. "Dad was the teacher and me the pupil. It's a good father and son team. We have a good partnership and share the helm."
The Lynch's are now pinning their hopes on a solid final race in May., when the popular Apollo Bay race will decide the series, which Pegasus leads by one point – from Alien and her experienced crew.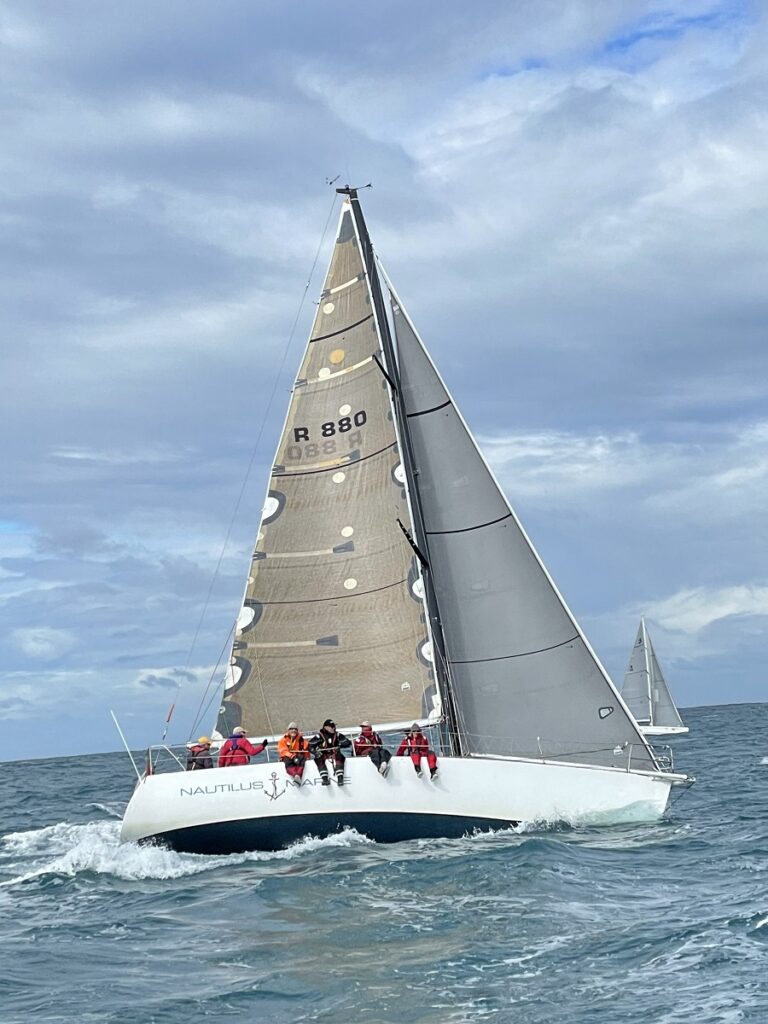 "We had close race with Alien until they took off from us on the downwind leg after bravely putting up a chicken chute. They just took off. They had sensational race, nailing the rhumbline, sailing deep and fast on the downwind. And they had a brilliant upwind leg too.
Andrew admits: "The series will probably come down to the three of us – Alien, Pegasus and Ca Bouge," he says of the yacht owned by Aaron Marlow, which finished Race 3 in third and is third overall in the pointscore, five points adrift of Pegasus.
"We had gear failure – the brace pulled out of the spinnaker pole beak no fewer than six times," Andrew admitted.
To win the Series pointscore, he admits: "Better preparation next time and a little bit more preparedness to take a risk. We are green and still learning, so we're more conservative than Alien's crew, who are more experienced and have more confidence. We'll have to put it all on the line in the final race."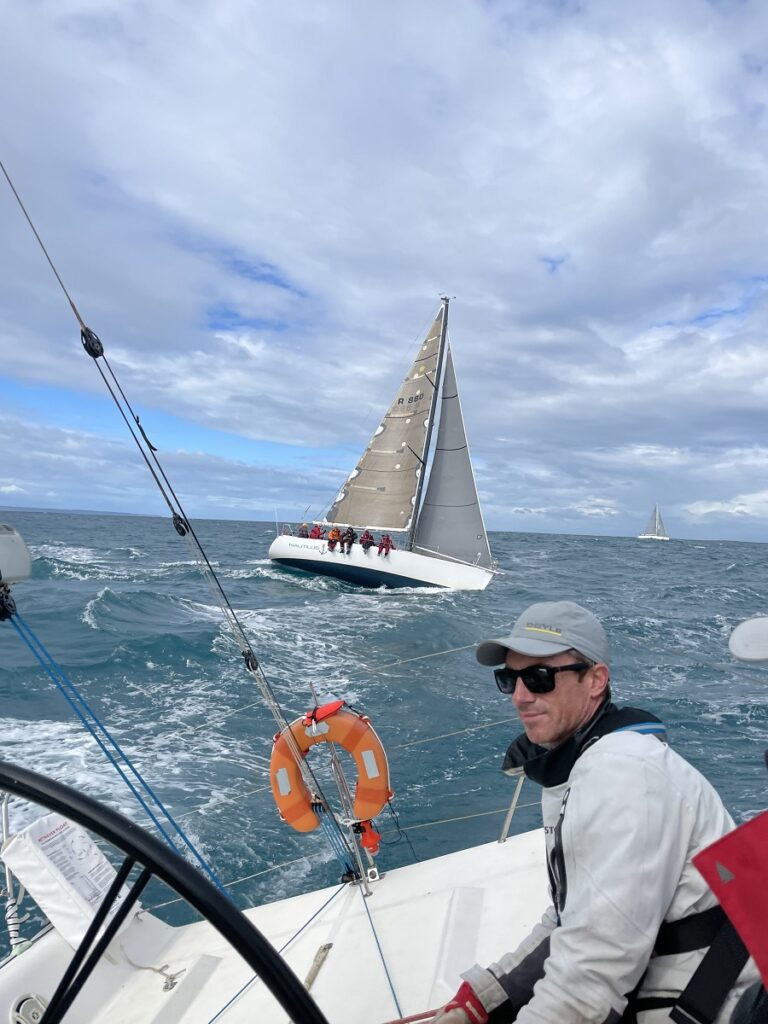 Whatever happens, the Apollo Bay Race on 22 May is shaping up to be a thriller, with so little in it between the top three. And as Andrew points out, "We're all very conscious of not getting ahead of ourselves.
"One of the races in the series was a war of attrition sailed in very light air with a lot of parking going on, so anything can happen. I'm really looking forward to the Apollo Bay Race and to the outcome," he ended.
Meanwhile, Justin Brenan (Alien) could not be happier, as the ORCV's Vice Commodore and Sailing Captain came up with the concept for the West Offshore Products Coastal Sprint Series.
Brenan explained the rationale behind the Cat 3 series. "I wanted to promote a stepping stone approach to ocean racing with more Category 3 races, which supports people getting into ocean racing.
"We did a fair bit of research and looked at three things: Cat 2 racing has time pressures on it and the fleet numbers declining – all to do with time – so what we wanted was something that required no more than a single day commitment.
"The other problem was we needed a pathway to ocean racing – a skills thing – so we needed a progression – you can't go from bay racing straight into ocean racing without some experience.
"Third, we wanted Cat 3 racing in its own right. Two thirds of the fleet in the bay are not interested in longer offshore races."
Brenan went on to say that organising day offshore events wasn't easy, "As we have to take tides and other clubs' races into account. All the top end clubs have been very cooperative, for which we are thankful.
"Our first Cat 3 race had seven boats and we had 22 starters this weekend. The program is working. We have 42 boats entered for the series in total – including 18 first-timers," he said of the Sprint Series, which is open to fully crewed, double-handed and 4+Autohelm entries.
Of his Race 3 win, Brenan said, "It's about preparation, getting the right gear and having good crew and good sails. The Pegasus guys have a good boat and sail it well. They'll do alright and might become future champions."
Race 3 top three results:
AMS 
1st Alien (Justin Brenan)  
2nd Pegasus (Andrew and David Lynch) 
3rd Ca Bouge (Aaron Marlow)
IRC 
1st Wingara (John Hall)  
2nd Wicked (Mark Welsh)  
3rd Maverick (Anthony Hammond)
PHS 
1st True Colours (John Strahan)  
2nd Alien 
3rd Ca Bouge  
PHS Double-Handed 
1st Maverick
4+Autohelm 
1st True Colours 
Line Honours Carrera S (Gerry Cantwell)
For full results on the Race 3 of the West Offshore Products Coastal Sprint Series go to: www.orcv.org.au/results/2020-21/
Entries are now being accepted for the final event of the Series, the Apollo Bay Race. To enter, please go to: www.orcv.org.au