The Dragon State Championship was held on the waters of the Swan River in Perth over the weekend of Sat 17 and Sun 18 November. The regatta had particular relevance because the Australian Championship for the Prince Philip Cup and the Dragon World Championships are to be sailed under the burgee of host club The Royal Freshwater Bay Yacht Club in a few weeks time.
After 7 races the top two well known Western Australian yacht racing legends where tied on points and race scores. Peter Gilmour racing with his son Sam Gilmour and Yasuhiro Yaji in their Yanmar Racing Japanese flagged Dragon, had to race off against Willy Packer and his team of Julian Harding and Jock Packer for the title in the very last race of the series.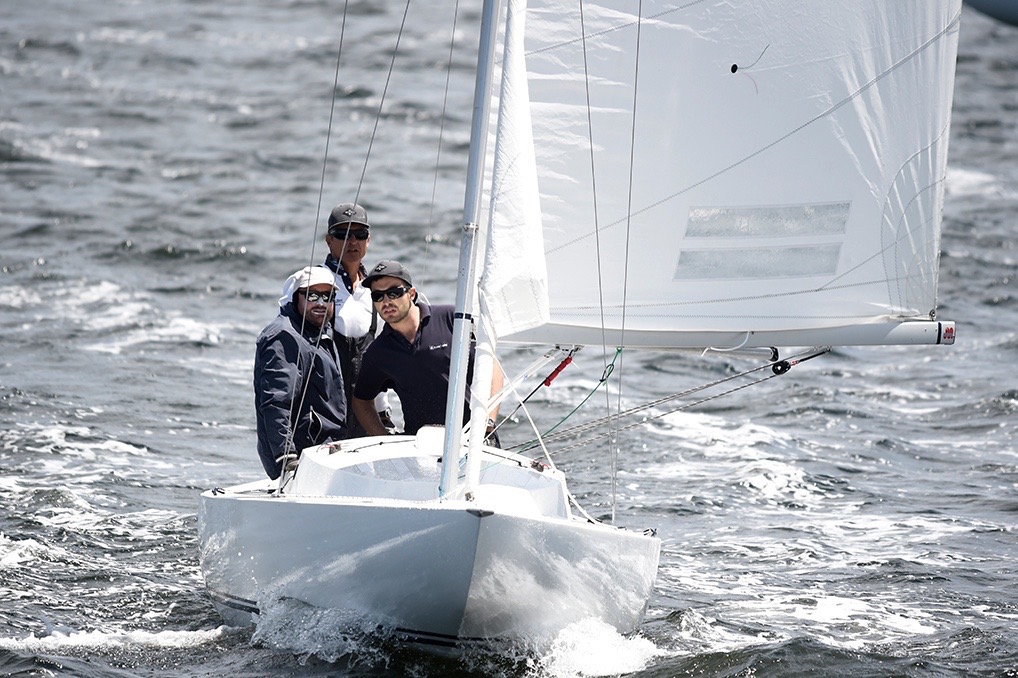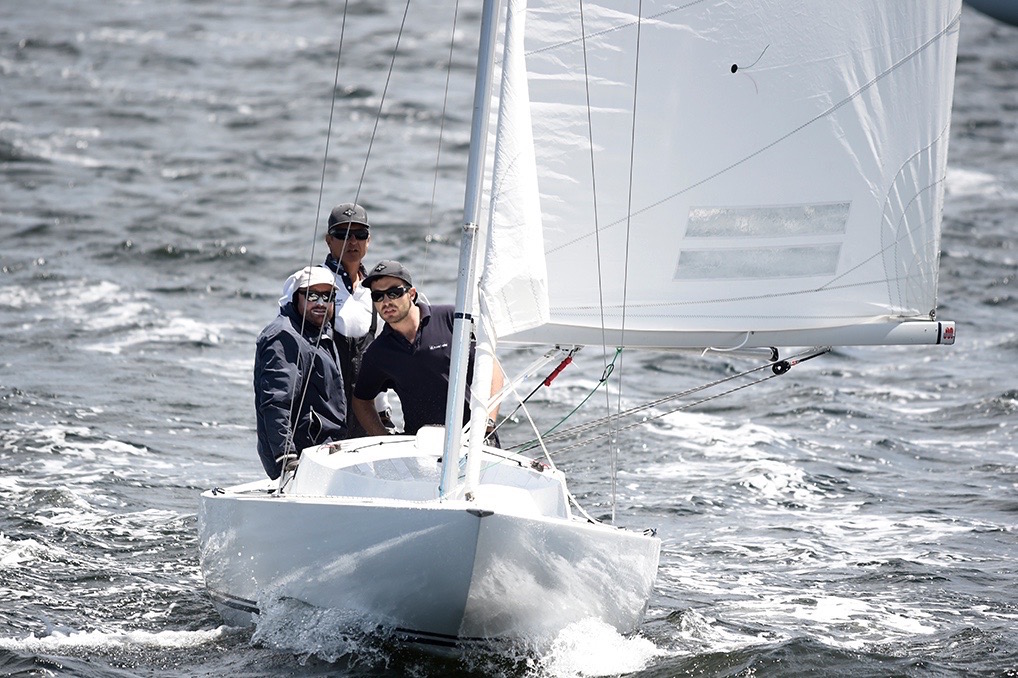 Racing begun for the 18 boat fleet early on Saturday morning in an unusual hazy mist but near perfect light to moderate shifty breeze of 8 – 10 knots at 330 degrees. Two races were held in the morning session and three Dragons began to show their stripes. Peter Gilmour (YRed), Willy Packer (Scoundrel) and Andrew Foulkes sailing (Tatsu) with crew Andrew Bennett and Matthew Stafford where the early pace setters. Gilmour scored (1,2), Packer (3,1) and Foulkes (2,3).
The fleet then returned ashore for a couple of hours as the Swan River was full of yachts competing in the Governors Cup, a local regatta held on the same river course. Returning for the afternoon session PRO John Taylor (JT) set tight windward/leeward courses in Freshwater Bay right in front of the Royal Freshwater Bay Yacht Club lawns. Again the breeze was shifty and ranging from 8 – 14 knots from 250 degrees. Shorter 0.5nm courses ensured some tight racing.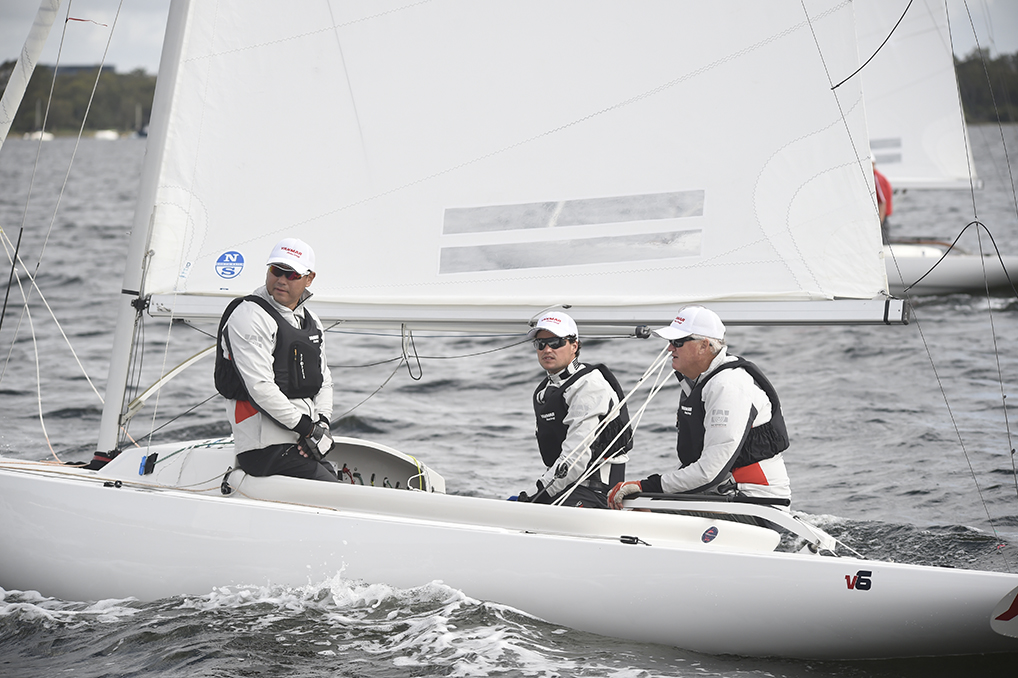 Peter Gilmour and Willy Packer's teams were notably starting right on the gun, usually at the pin end of the line but race 3 of the championship did show some other local Dragons showing their corinthian skills. Gilmour got away into clear air and created a big lead but behind Willy Packer and Andrew Foulkes were buried deep mid fleet. Simon Prosser, Mark Glew and Stephen Wray (Linnea), Rob Hammond, Tony Yates and Arthur Phillips (Whim) and Ray and Karen Chatfield and Peter Massee (Wizzardry) where all challenging for the podium spots. Willy Packer clawed back to 7th and Andrew Foulkes 9th.
Race 4 returned to regular form with Foulkes winning from Gilmour and Packer with a constant battle for the mid fleet places only decided by a few feet on the finish line.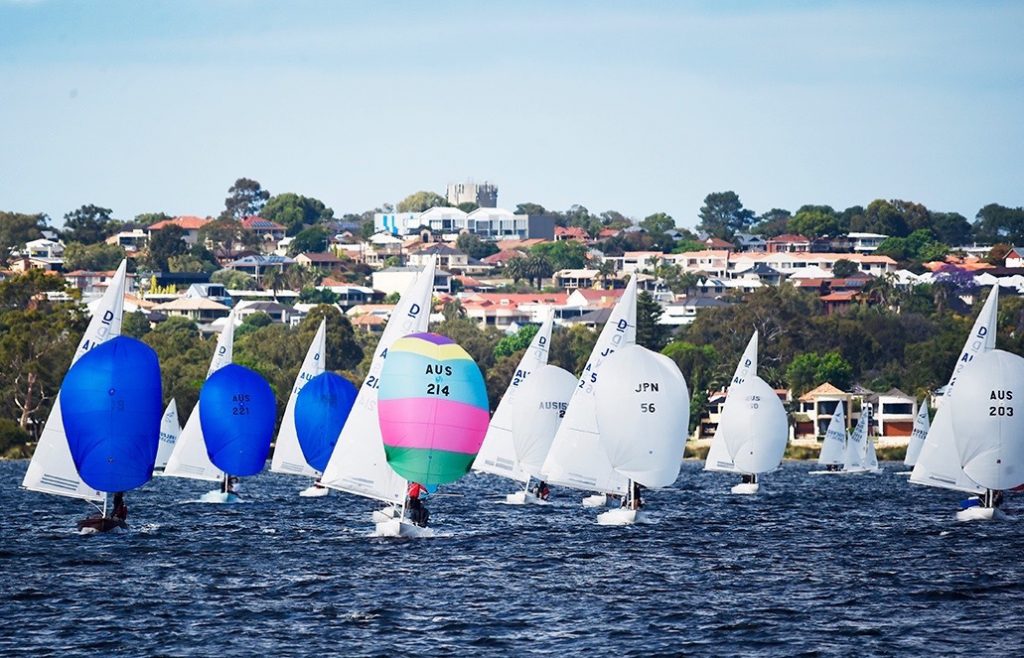 Race 5 ended up being crucial to the end result. The regatta had seen a few individual recalls and one or two generals but this one became significant. Whilst some retuned, on this occasion Peter Gilmour's Yanmar Racing Team were one of a few boats called OCS. This promoted Willy Packer to a race win with Ray Chatfield (Wizzardry) second and Trish Ford sailing (Canewdon Witch) with Graeme Fardon and David Hay enjoying an excellent race to finish third.
As the breeze faded and dusk fell 5 races had been sailed out of 8 and the points were tight at the top, Gilmour 6pts, Packer 8pts, Foulkes 10pts and Bowman 17pts.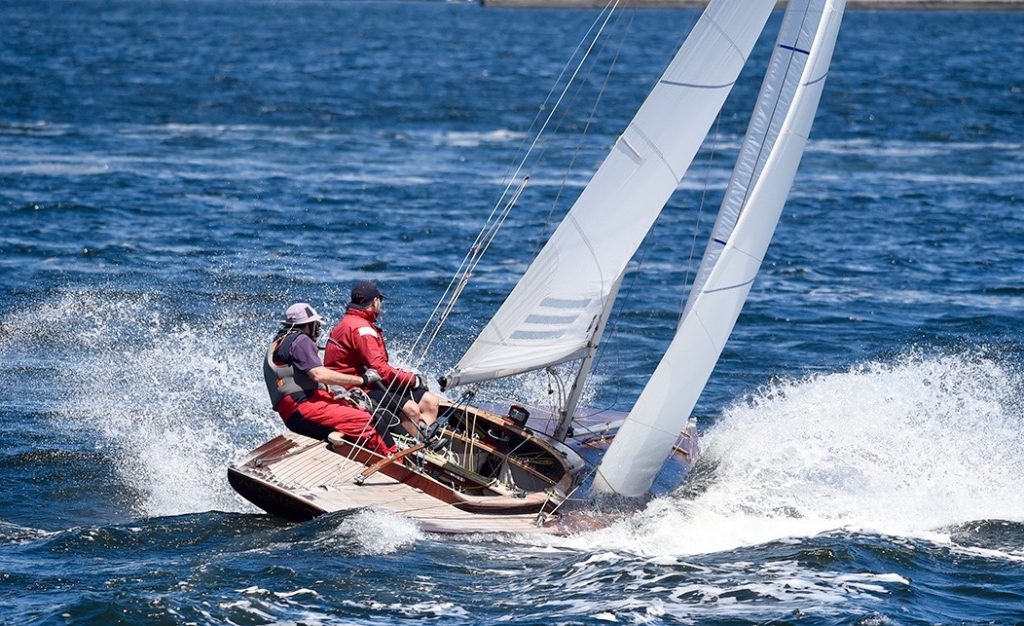 Sunday morning was another early start back on Melville Waters in the middle of the Swan River. It was another cool morning with the breeze working its way back back to the S/SW during the day.
Race 6 was won again by Willy Packer from a rapidly improving (Aeolus) team, the beautiful (50+ years) wooden Dragon sailed by Peter Bowman, Jennie and Ben Fitzhardinge. Peter Gilmour was 3rd.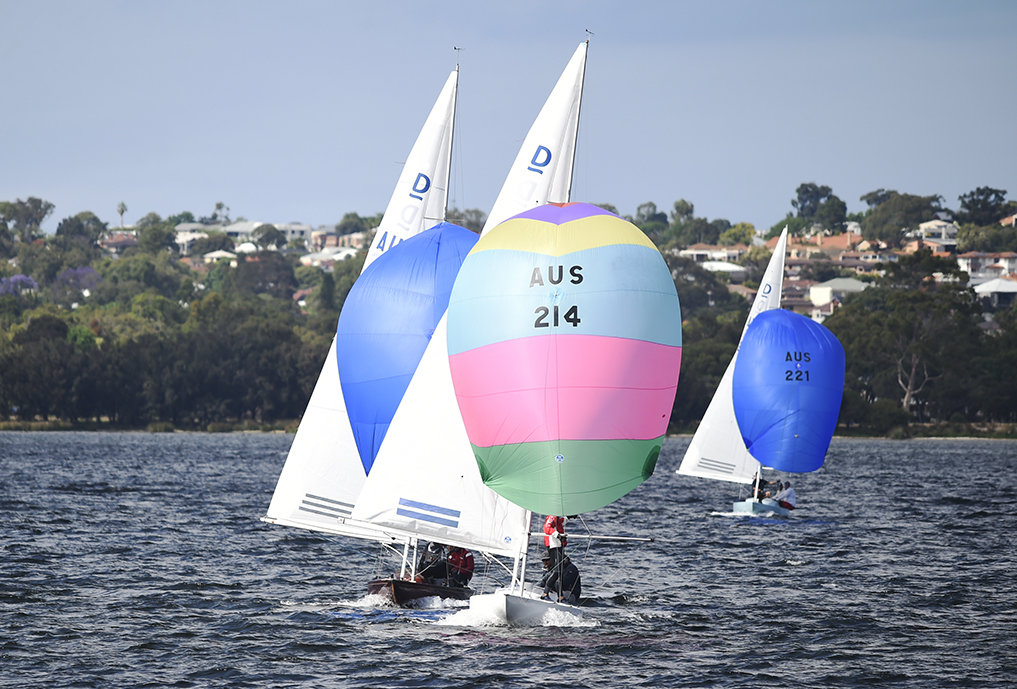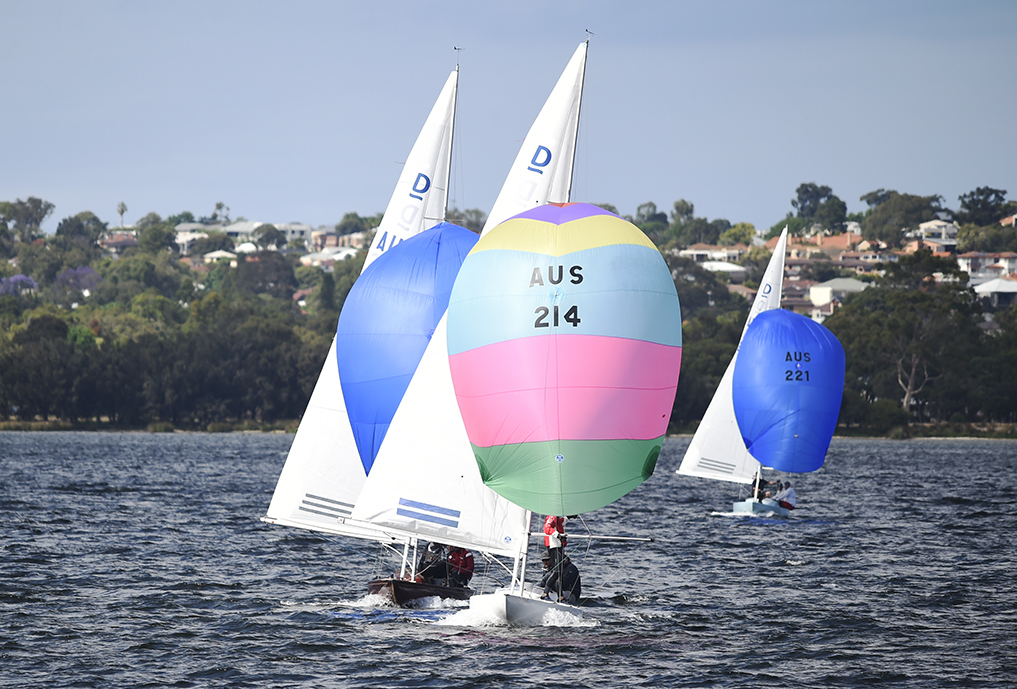 Race 7 was started in slightly fresher breeze. This time it was Gilmour's team who led Willy Packer around the track to take the gun. Peter Bowman (Aeolus) despite returning unnecessarily to re-start and a penalty turn at the top mark, managed to carve his way back to cross 3rd. This time it was Andrew Foulkes turn for disappointment as he was judged to be OCS.
This meant the title would go down to the wire in the final race with Peter Gilmour 1 point ahead of Willy Packer and only 1 race drop in the 8 race series. As the start sequence commenced Gilmour looked to hunt down Packer with some of his famous match racing skills. On the gun the pair started right next to each other at the pin end with Gilmour to leeward. Both boats tracked out to the left of the course then tacked back to cross hard to the right. This gave an opportunity for the rest of the fleet to sail their own race and contest the lead. It was Peter Bowman (Aeolus) who took advantage to open a lead of a few boat lengths over Ray Chatfield (Wizzardry). Gilmour had led Packer into the windward mark in around 5th place. Packer soaked down wind on the stern of Gilmour. At the gate both boats had made ground to challenge but after the gate rounding Gilmour and Packer split tacks. This was where Willy Packer used all his magic to work his way upwind tacking many times on the shifts. By the top mark second time around Willy Packer was up to second behind Peter Bowman with Peter Gilmour in 4th.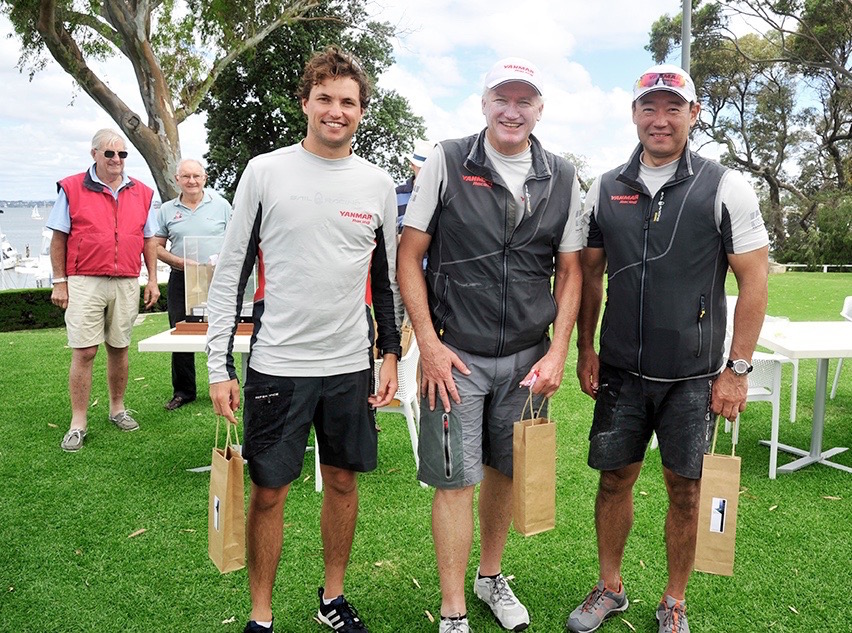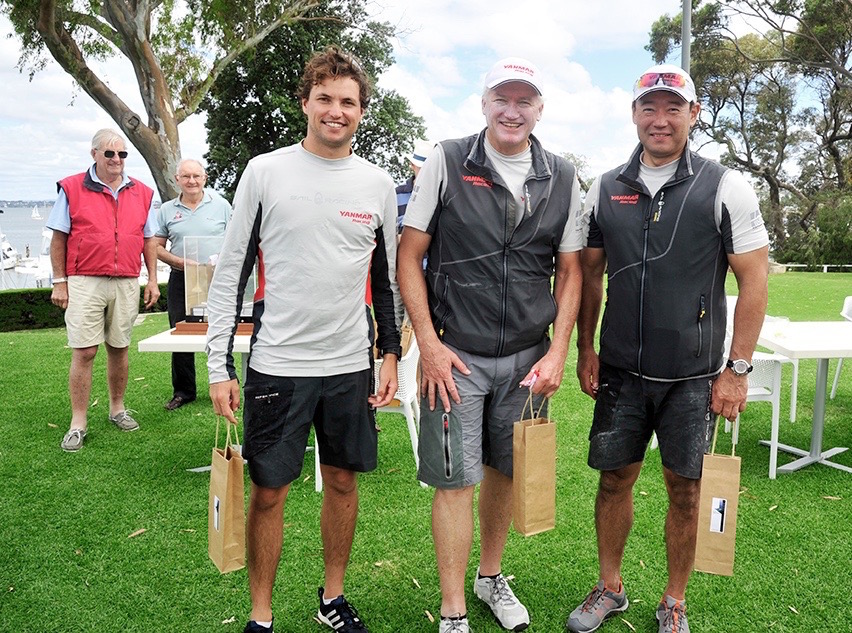 At this point the race management got out the SI's and the rule book to double check the scoring system for the regatta. The final race included one extra upwind leg to finish at the windward mark. As it turned out every tack and every position was vital to decide the title. With both boats coming from different sides of the race track it was an impossible call. Despite a very late attack by Packer, Peter Bowman crossed the line to take the final race win by half a boat length from Willy Packer with Peter Gilmour squeezing in to third on his final tack.
Some frantic maths showed both teams on equal points and equal race scores, so the title would be decided on the discarded race Willy Packer's (7th) to Peter Gilmour's (OCS/17). Courtesy of an excellent second days racing Peter Bowman advanced to 3rd overall.
The WA Dragon fleet now relocate to Fremantle for the Australian Championship (Prince Philip Cup) and the Dragon World Championship at the end of the year. For more details visit: http://www.dragonworldsfremantle2019.com
To view venue/sailing area click on this link  https://youtu.be/Zv_7wchWwc0
Overall results link: http://www.rfbyc.asn.au/content/on-water/regattas/2018-19-dragon-state-championship.php
Facebook link: https://www.facebook.com/dragonworldsfremantle2019/