Well getting into the mid point of the regatta. Five races done after three more yesterday and the possibility of another seven to go, weather depending.
The three races yesterday were held in a pretty reasonable sailing breeze ranging from 5-10 knots. The wind shifted back and forward about 20-30 degrees at regular intervals, each shift being 2-3 minutes. An offshore breeze with the top mark quite close to land also made the wind at the top of the course more fickle. But the race committee did a good job to get three races in.
Our sailors had a reasonable day but made it hard for themselves. Most of the Aussies were well back at the first mark in each race. Very deep in the back half of the fleet and sometimes near last. The start and first wind shift are very important to setting up a good race and we need to do this better at this very important phase.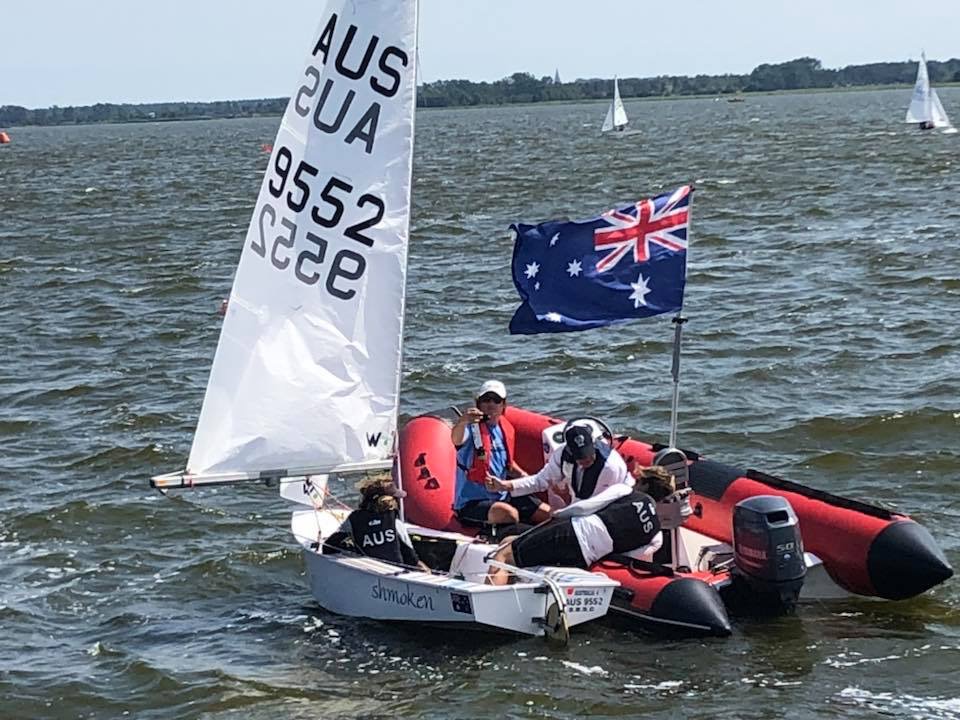 The start line is very long with this size fleet and it makes it very important to get right, not only getting away well but setting up your early strategy to be in the front bit.
Which is the favoured end? What is the wind doing? Dealing with other boats around you and keeping clear air are a lot of curve balls thrown at you in the immediate pre-start sequence. But cope with them we must and do our best to get better.
But on a really positive note, we had some great comebacks from these positions and worked our way up with some boats getting up into the single digits and low teens. A very good sign and testament to the resilience of the kids.
The results are online, via the link below, we still have some well placed and all are in top half of fleet.
Today we are hoping the wind fills in, a gentle breeze at the moment. Personally myself and Sam Tiedemann will make a feature of trying to get everyone better at the start and the first 200 metres of the race. I am looking forward to seeing our sailors tackle today.
As always, with regattas there are protests to attend and we have had a couple involving Australian team members. I am able to attend these and try to as much as possible. The behaviour of the sailors in front of quite an intimidating international jury has been exemplary, polite and well mannered. Well done guys.
Thanks for all the support,
Bully