It was a fitting finale to the first International WASZP Games at Campione on Lake Garda. Harry Mighell from Sorrento in Victoria, Australia, did a horizon job on the fleet in light 7 – 10 knot marginal foiling conditions. Race 9 started in a patchy light breeze from the South, that swung around the compass right from the start. The fleet of 53 WASZP's packed the start line, low riding off on starboard tack. This time the shift further to true South forced the majority to take the left side of the course sailing low towards Malcesine on the East side of the Lake. A number of competitors fell into holes or off the foils stopping dead to let clusters of other WASZP's past.
Rory Rose (GBR) from Aberdeen & Stonehaven YC in Scotland, led a group of the lighter youth sailors around lap 1, but the experience of Harry Mighell was enough for him to keep them in his sights. Harry rounded just behind Reed Baldridge (USA). Guillaume Rol, the 19 year old Swiss sailor and Stuart Appleby from WPNSA in the UK were up in the front pack. Downwind, Harry Mighell pulled away leaving the young guns to try and defend their positions against the more experienced WASZP sailors. Back upwind for the second time and Mighell used the pressure in the middle section of the course to sail well clear, but the places were changing behind him as the breeze continued to oscillate.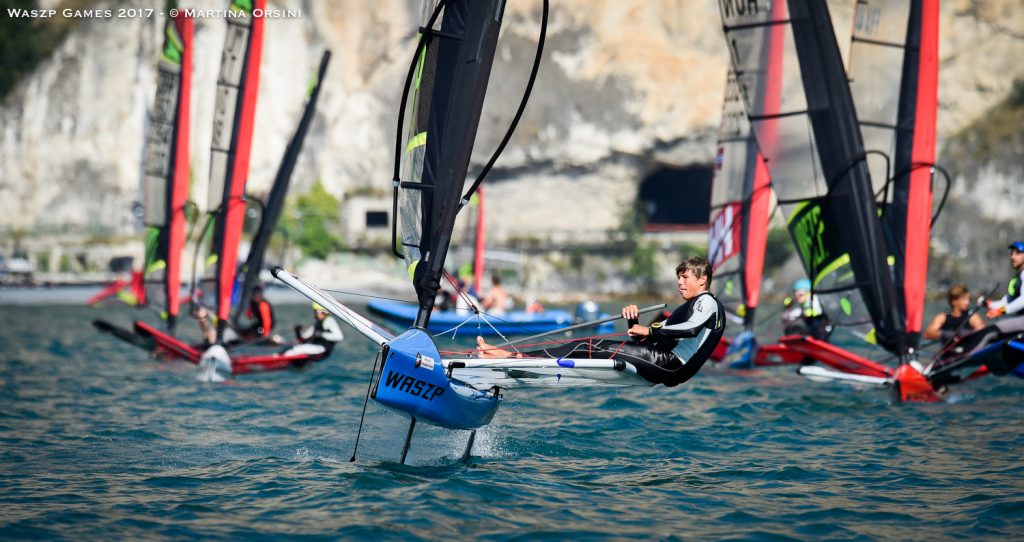 Rory Rose held on to second and the kiwi Bruce Curson appeared to be reeling in the places just ahead of Joan Costa from Spain, his nearest rival overall. Reed Baldridge was slipping down the pack and his challenge for the overall title rapidly fading. The last leg was a bit of a game changer, as the breeze begun to fade and the struggle to stay in pressure to foil becoming an absolute necessity.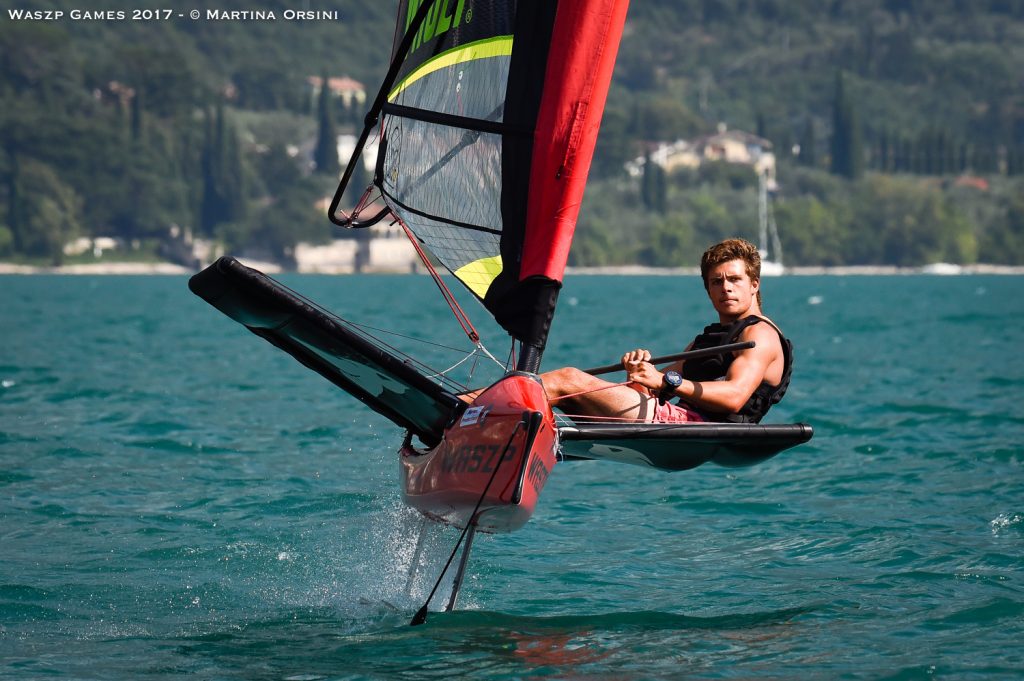 Harry Mighell cruised across the finish line to win by a country mile. Harry was a key cog in the design and build team of the WASZP and it was a proud moment for him to win the inaugural International WASZP Games in the boat he was largely responsible for creating. Behind Harry, second to cross the line was a jubilant young Swiss youth sailor Guillaume Rol, enjoying his moment in the sun. Carving through the fleet for third was Kohei Kajimoto, one of the WASZP team who sails in Melbourne, Australia. In fourth was Joan Costa from Spain, who at only 17 years of age, sealed the Youth category. Behind Joan, another Spanish young gun, Ruben Booth, finished with his best performance of the championship. Reed Baldridge crept over in sixth to claim second overall in the championship.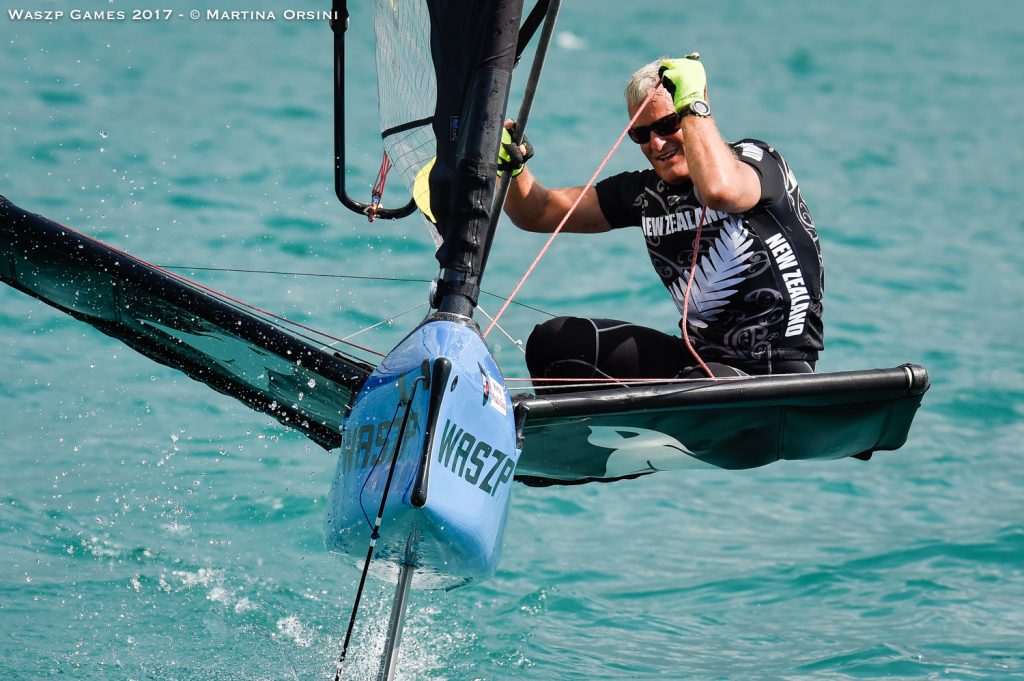 Once the results were churned through the computer and the second discard taken into account, the finishing order for the top 10 looked like this:
Results (top 10 after 9 races and 2 discards)
1 AUS 238 – Harold Mighell – 4,2,3,1,2,1,1,1,1 = 9pts
2 USA 2383 – Reed Baldridge – 1,1,2,3,3,3,2,3,5 = 15pts
3 AUS 2380 – Kohei Kajimoto – 9,6,5,2,4,2,6,2,ocs = 27pts
4 ESP 2167 – Joan Costa – 5,4,OCS,4,6,5,5,9,3 = 32pts
5 NZL 2382 – Bruce Curson – 11,8,6,5,8,6,4,5,7 = 41pts
6 FRA 44 – Pierre Leboucher – 6,9,7,6,12,7,7,7,9 = 49pts
7 AUS 2395 – Tristan Brown – 16,5,9,12,7,10,9,4,8 = 52pts
8 AUS 2390 – Dean Souter – 18,dnf,1,26,1,4,3,6,20 = 53pts
9 AUS 2389 – Gus Ekberg – 2,11,11,7,9,9,11,12,24 = 60pts
10 GBR 2078 – Stuart Appleby – 7,7,15,10,11,8,10.,8,13 = 61pts
NB: See below for full results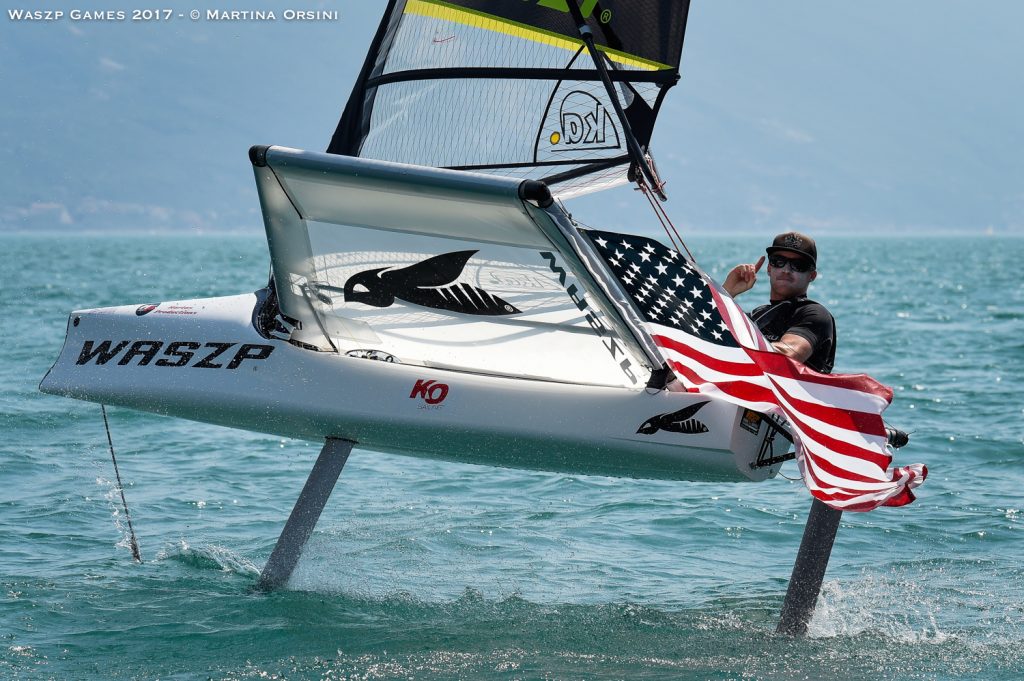 Category trophy winners
1st Silver fleet (6.9m rig) – Nicolai Jacobsen (NOR)
1st Youth (-18 years) & first European – Joan Costa (ESP)
1st Female – Sara Winther (NZL)
1st Master (45 years+) – Mark Orams (NZL)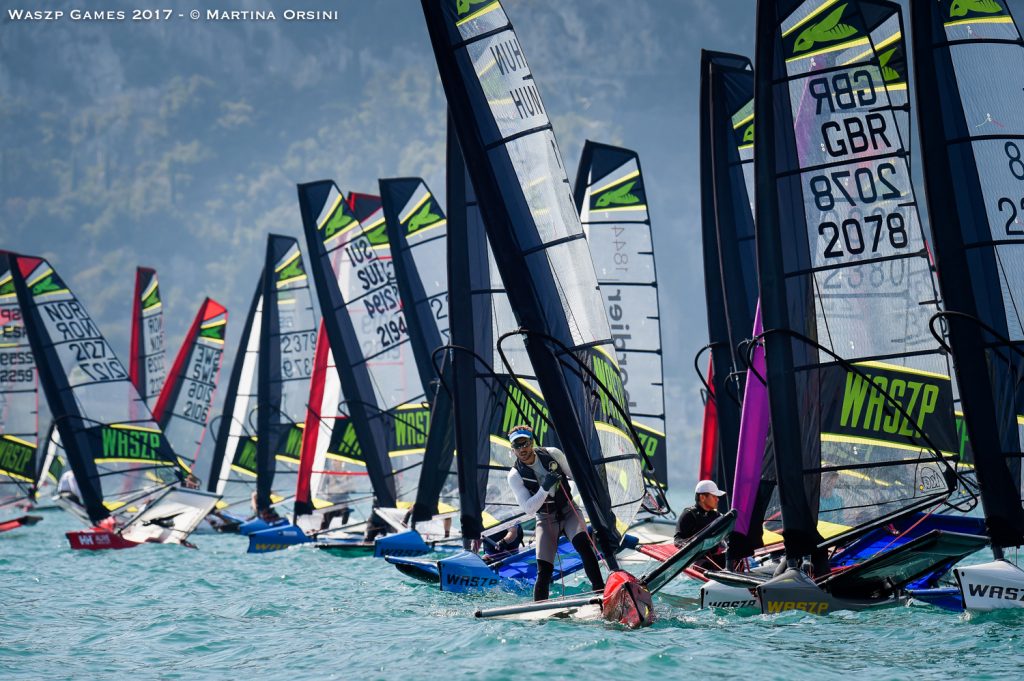 Speed Demon of the day was Mikel Vazquez from Spain with a speed of 18.3 knots in very light airs. Speed Freak of the Week was Bruce Curson on New Zealand with a top speed of 21.8 knots. Before the final race of the WASZP Games, a Handicap Pursuit Race was staged whilst the wind was still too light to foil. Almost all competitors took part in this fun race and the format met with general approval.
David Lilburn from Royal Tay YC led throughout the first lap being chased by Sara Winther of New Zealand and Claudio Lenzi from Circulo Vela Bellano in Italy. As a faint breeze increased and some of the lighter sailors managed to briefly foil, the fleet condensed to an exciting finish. The winner was Stuart Appleby from Weymouth in the UK. The WASZP team will be announcing further WASZP International Games events and a series of regional championship regattas in the near future. For more information please visit: www.waszp.com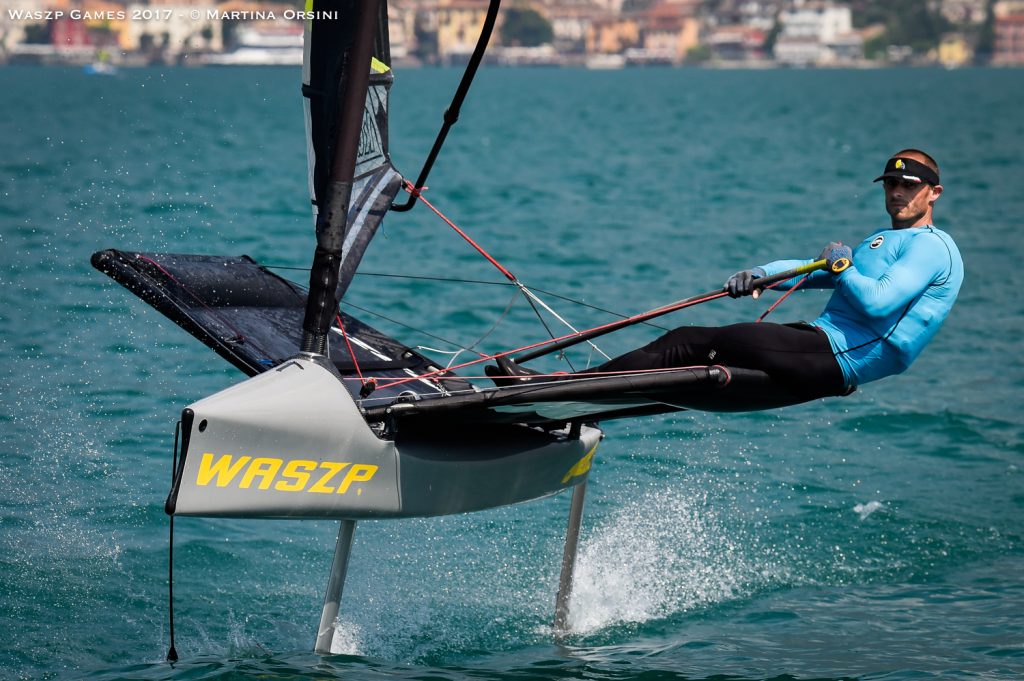 Links:
Website: www.waszp.com
Facebook: WASZP Games
Photos: Martina Orsini
Videos: Oliver Hartas of Hartas Productions
Overall Results
1 Harold Mighell AUS – 9 pts
2 Reed Baldrige USA – 15
3 Kohei Kajimoto JPN/AUS – 27
4 Joan Costa ESP – 32
5 Bruce Curson NZL – 41
6 Pierre Leboucher FRA – 49
7 Tristan Brown AUS – 52
8 Dean Souter AUS – 53
9 Gus Ekberg AUS – 60
10 Stuart Appleby GBR – 61
11 Rory Rose GBR – 78
12 Tamas Szamody HUN – 92
13 Mark Orams NZL – 94
14 Alexandre Festino FRA – 100
15 Alexander Hogheim SUI – 101
16 Marcal Costa ESP – 110
17 Guillaume Rol SUI – 111
18 Ruben Booth ESP – 123
19 Luis Horacio Canuto ARG – 123
20 Nicolai Jacobsen NOR – 135
21 Stefano Ferrighi ITA – 136
22 Jarudd Hugo SWE – 137
23 Jack Abbott AUS – 141
24 Rasmus Granzin SWE – 161
25 Glen Sowry NZL – 162
26 Benjamin Cowen FRA – 165
27 Max Wallenberg SUI – 168
28 William Heathcote GBR – 168
29 Bart Peeters NED – 168
30 Erik Karlsen NOR – 185
31 Mikel Vazquez ESP – 190
32 Henrik Haaland NOR – 197
33 Francesco Ivaldi ITA – 208
34 Richard Schultheis MLT – 209
35 Dave Lilburn GBR – 225
36 Pit Muller SUI – 229
37 Claudio Lenzi ITA – 230
38 Thomas Hersperger SUI – 234
39 Sara Winther NZL – 235
40 Frederikke Foss NOR – 236
41 Tobias Sandmo Birkeland NOR – 269
42 Melissa Kalicin ANT/USA – 273
43 Pere-Andrew Ubach de Fuentes ESP – 276
44 Pean Oscar FRA – 286
45 Carn Morgan FRA – 295
46 Marc Babin FRA – 303
47 David Ubach ESP – 333
48 Tristan Payne GBR – 347
49 Frank Mulhauser GER – 359
50 Teemu Poyhonen FIN – 369
51 Martin Schulz-Scheepers GER – 378
51 Andre Friederich LUX – 378
51 Gian Ferrighi ITA – 378