Because it was so well-received in 2016, SeaLink Magnetic Island Race Week organisers are planning to host the Cape Upstart stopover again this year, for boats travelling from Airlie and/or Hamilton Island to SMIRW.
"Cape Upstart is totally unique to this event," Mike Steel, Event Chairman and Townsville Yacht Club (TYC) Director said of the event which was added to the calendar for the first time last year.
"It's a great way for competitors, particularly those from interstate who are travelling from other regattas to unwind and get to know each other. It was a lot of fun and is a great way to start our regatta off," he said.

"Richard and Karen Bonato kindly host and cater this BBQ event for the Club, opening their home at Cape Upstart to welcome yachties. Richard is not a yachtie, rather a motor boat owner, who is thrilled to share his piece of paradise.
"Cape Upstart is inaccessible by land, so the Club ferries competitors ashore from their yachts moored off the beach. We had around 100 attending last year and everyone made the most of the night, including a big bonfire."
Steel's comments are endorsed by Victorian yachtsman Mark Chew, who participated and took photos before racing his beautiful classic timber boat, Fair Winds', at Magnetic Island last year: "It was a wonderful night with a big fire on the beach. It was really beautiful gesture," he recalled.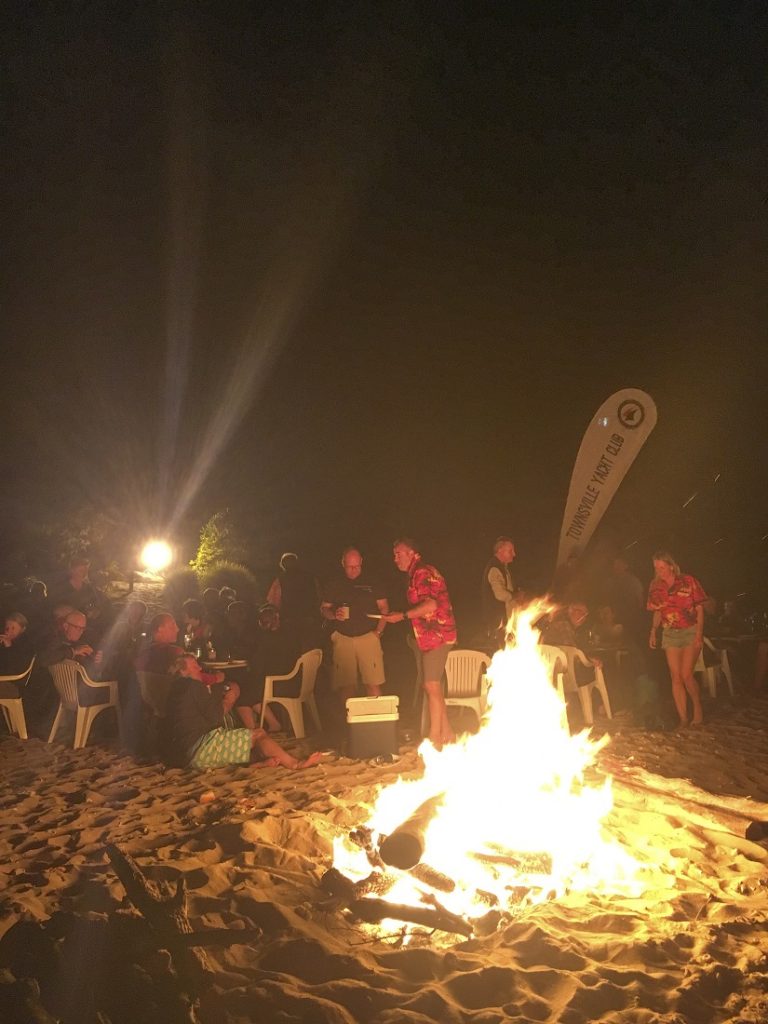 "Competitors only had to supply the drinks," he said of the memorable evening that combined convivial company and a seafood BBQ provided by the Club set amid some of the most spectacular scenery on offer in Australia.
TYC will send an invitation for Cape Upstart to all registered boat owners in August and also has other social events in the pipeline, while Queensland television personality, Scott Hillier, returns to film and comment live on the action at the daily prize giving.
To-date, TYC has received 55 entries from monohull and multihull owners. Among them are two 'ten timers' for the 11th running of SeaLink Magnetic Island Race Week, which will be raced from 31 August until 6 September.
TYC members Stanley Barnes with his Supersonic 27, Librian and Mike Steel, again skippering his Dufour 36, Boadicca have not missed since the event's inception. Not far behind them is Ian Johnson's Salacia with nine, while Doug Ryan (Shazam), Graeme Etherton (The Boat) and Jack Maguire (Zen) have each attended eight.
The event is open to IRC, PHS, Cruising in Spinnaker and Non-Spinnaker yachts, Trailable Yachts, Sports Boats along with divisions for Multihull Racing and Cruising boats.
Entries close on Thursday 24th August 2017, so enter now to race against the current crop of 55 representing Queensland, Victoria, Tasmania, South Australia and NSW.
Enter online via the official website:  www.magneticislandraceweek.com.au/
Find the event on Facebook: https://www.facebook.com/SMIRW
Follow the event on Twitter: https://twitter.com/miraceweek