The Scots 1 team from Sydney, New South Wales came from six-deep in the finals series to end up winning the Australian Schools Team Sailing Championships, hosted by Nedlands Yacht Club in Perth, in incredible fashion.
They began their finals series against last year's grand finalists Westminster from South Australia and were able to advance through in a sudden death match up.
They then took on the local team of Christ Church Grammar School in another sudden death match up and were good enough to get the win and advance through.
However their biggest scalp came in the next flight of the finals when they had an epic match up against the at-the-time undefeated team of Friends Purple from Tasmania in a best of three match up.
Scots 1 lost the opening race, however rallied to win the next two races and the match against what was seen as an untouchable team, to earn a berth in the grand final.
Their training partners Scots 2, which headed into the finals series in fourth place with the double chance, also managed to fight their way to the grand final to make it an all-Scots affair.
However the number 1 team was able to take the chocolate in the best of five match up 3 wins to 1.
Although Scots 1 is the higher ranked team, the quality of the 2 team proves how great the depth is within the school's sailing program – the coaches and sailors should be very proud.
In the girls final, the higher-placed Friends White from Tasmania came up against Ascham from New South Wales and it was an awesome match.
Friends White took the first win, however in the second race Ascham were able to force a penalty at the final mark that saw them sail to victory and square the ledger at one apiece in the best of three final.
However Friends White returned the favour in the final race, forcing a penalty themselves at the last mark again to claim victory and be crowned girls champions of 2017.
The finals racing was live streamed on Facebook by Down Under Sail and is available to watch both on the Facebook page or on this story above.
Thanks also to Jennifer Medd for all of her great photos from throughout the event.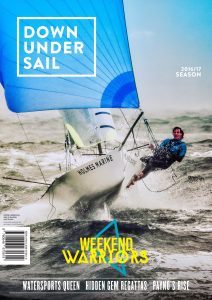 [btnsx id="2771″]