Sharpie legend Mal Higgins, along with Sam Sanderson and Andrew Chisholm in Focus, has taken out yet another coveted South Australian State Sharpie Title, winning overall in a commanding victory against some very well-touted opponents. Although he and his crew did not attend the nationals this season, they proved they could still gel  as well as ever before and take out a memorable win.
The 2016/17 SA Sharpie States were competed for over two separate weekends throughout the season – one weekend at the Brighton and Seacliff Yacht Club in November prior to the nationals and the traditional country weekend in February after the nationals, hosted by the Wallaroo Sailing Club. Although numbers for the state championship itself were lower than seen in previous years, it was pleasing to see upwards of 35 sharpies competing at club level in South Australia at some point throughout the season. This can be significantly attributed to the growing Port Lincoln fleet, which is getting up towards 15 boats – our strongest sharpie club in the state.
The first leg of the states at Brighton was held in lighter and trickier conditions and saw some close racing with the up-and-coming Luke Stephens in Beer Nuts and veteran Chris Went in Trump putting Higgins to the test. They headed into the halfway mark in close contact, opening up a thrilling finish in Wallaroo.
The Walla Weekend is always known for big breezes and late nights but this year only half of that would be true. The sailing on the Saturday was a light off-shore breeze that many sailors had never seen before in Wallaroo and caused headaches for many of the teams. The night was spent at the awesome local yacht club where we enjoyed a great buffet dinner and some drinks before heading to the Cornucopia Hotel where several more refreshments were enjoyed. The second day was light again to start but then built into a gentle sea breeze, still not what we were used to for Wallaroo.
Higgins was too strong in the second leg and ran away with another title while Luke Stephens held off for a count back runner up place ahead of Chris Went.
Congratulations must also be given to Stuart de la Perrelle and his crew Sam Stevens and Henry Green in French Bread on taking out the SA Country Title. These guys have sailed a great season back home in Port Lincoln and are showing that the west coast long boats can definitely match it with their city counterparts.
Also a big shout out to the Victorian Sharpie Association on the running of a very successful nationals at the Mordialloc Sailing Club where we were lucky enough that SA went 1-2-3 (Maelstrom, Beer Nuts, Trump) in what was a closely-fought regatta. President Jake Nichols and his team worked incredibly hard and should be proud of their efforts.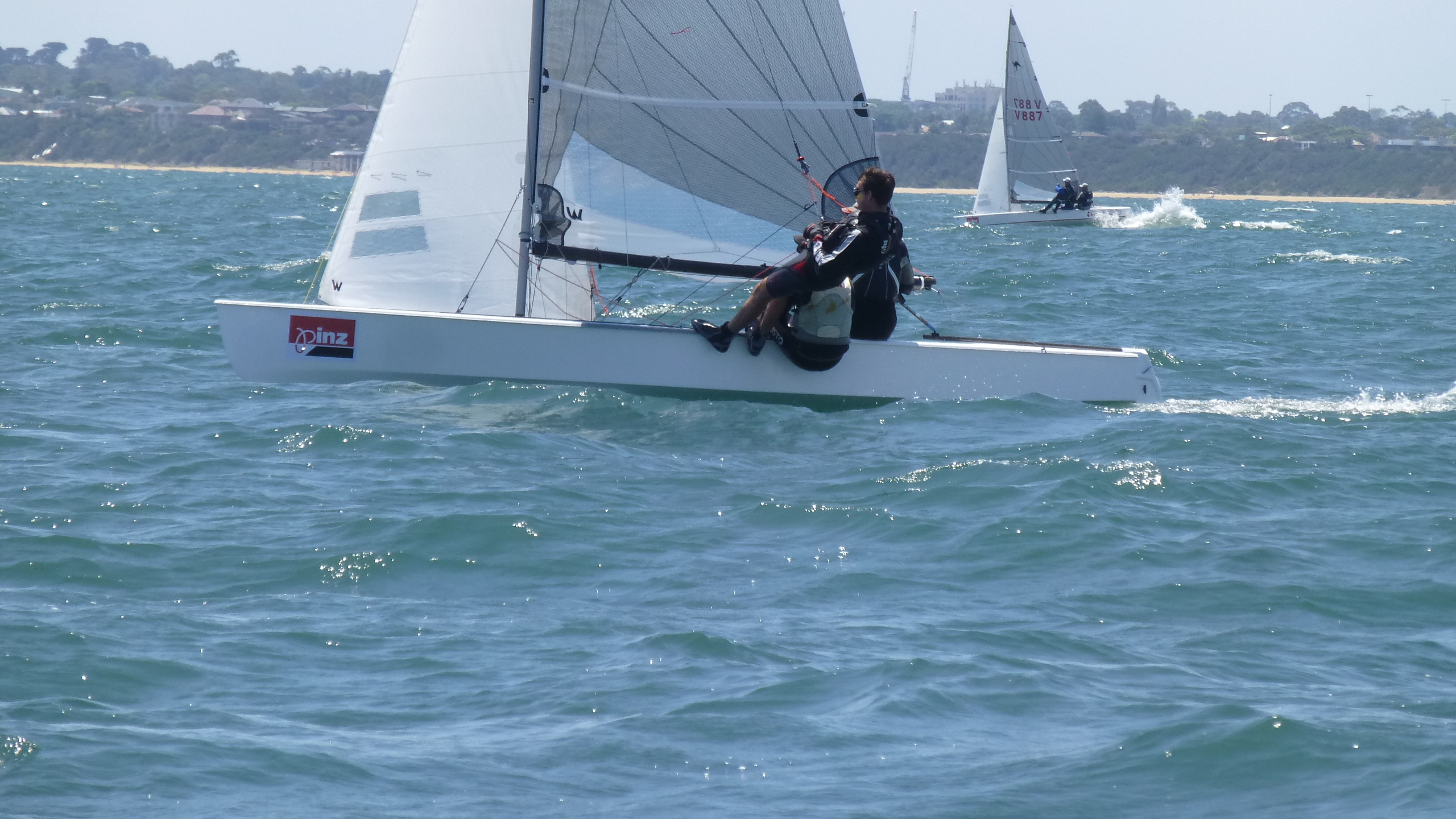 Maelstrom
They also put a lot of effort into travel this season with two big trips both to Port Lincoln last June for our Sharpie Frostbite Regatta and again in November to the first leg of our states. Max Nichols, along with Leah MacPherson and Rob Radnell in Figjam, were one of two boats that made the trip to the states and were good enough to take out the Arthur Shanks Perpetual Trophy for the first-placed juniors in the states – well done!
A great season of sailing sharpies again in SA and we look forward to next year, which will include the 75th anniversary of the Sharpie Nationals in the iconic and historic sharpie location of Yeppoon in Central Queensland. There's already a heap of SA boats confirmed with talk of plenty more – we can't wait to get there.
A year on from the Yeppoon nationals it will be coming back to SA and we invite everyone to the Adelaide Sailing Club for the 76th Sharpie Nationals (dates to be confirmed).
OVERALL
Focus – Mal Higgins
Beer Nuts – Luke Stephens
Trump – Chris Went
Maelstrom – Jason Heritage
Nude – Ryan Kelly
Moe's – Peter Higgins
Ferocious White Hunting Rabbits – Chris Todd
Nightmare – Steve Luders
Spank – John Weigand
Under the Radar – Peter Kirk
Don't Poke the Bear – Tony Turton
You Can't Get Fritz in Sydney – John Woolatt
French Bread – Stuart de la Perrelle
Intoxicated – Terry Carlson
Simply Irresistible – Brett Gage
Bums on Decks – Lauren Thredgold
Asylum – Bronte Flint
HANDICAP
Spank – John Weigand
Ferocious White Hunting Rabbits – Chris Todd
Nude – Ryan Kelly
Beer Nuts – Luke Stephens
Focus – Mal Higgins
Trump – Chris Went
Maelstrom – Jason Heritage
Nightmare – Steve Luders
Under the Radar – Peter Kirk
Moe's – Peter Higgins
Bums on Decks – Lauren Thredgold
French Bread – Stuart de la Perrelle
Intoxicated – Terry Carlson
Mark it Zero – Mark Forbes
You Can't Get Fritz in Sydney – John Woolatt
Don't Poke the Bear – Tony Turton
Asylum – Bronte Flint
Simply Irresistible – Brett Gage
MAJOR AWARD WINNERS
STATE CHAMPIONS
SA930 Focus – Mal Higgins, Sam Sanderson, Andrew Chisholm
STATE HANDICAP CHAMPIONS
SA919 Spank – John Weigand, Joe Kelly, Tom Alder
STATE COUNTRY CHAMPIONS
SA920 French Bread – Stuart de la Perrelle, Sam Stevens, Henry Green
STATE JUNIOR CHAMPIONS
V777 Figjam – Max Nichols Leah MacPherson, Rob Radnell
MOST IMPROVED BOAT
SA931 – Ferocious White Hunting Rabbits – Chris Todd, Doug Nairn, Jason Webb
STATES SPONSOR – HandiWebb Home Maintenance (Jason Webb)