This weekends Western Australian State Championships will be contested by 19+ boats at Busselton. It should be a cracking battle on Geographe Bay, who will take the chocolates? Check out this seasons form below.
SBD Drilling
Can Keysie finally get his boat going? Fresh from the frustrations of Port Philip Bay at the Nationals, there's no reason the old Master can't pull out a consistent series, but can he do it with a relatively new crew combination? First things first though, must get to Busselton without getting caught by the coppers (again) with an unlicensed trailer and also has to get out of bed on Sunday morning. Tom will keep him to the task no doubt.
Meat and Two Vegies
Kim 'Boxing Gloves' Taylor has gone all 12 rounds in terms of effort this season: constant refurbishment of a boat, crew ups and downs that would have Oprah speechless, and has turned out for every race going, both in sharpies and Twilight cruisers! Kim says new kite sheets and en empty front tank will take him to glory; our advice is, 'Don't push him up on the start line or else….'
Norma
Craig who? Franno has found the key to the shed padlock and discovered a boat inside. Will he remember how to rig a sharpie and can three skippers who sail with family members resolve on-board issues? Dean Dixon steering this time, so he knows what he's doing too and is hot to trot from the Tasar states. Questions on the water likely to be answered with "I'm your father, that's why!!' Have several seasons in Tasars dulled this crew's collective intelligence? We shall see. Nothing wrong with the boat…
Pigout
On-sold by Swannie to 125 sailor Felix Browning only days ago, Gary reckons these young blokes know how to sail, so watch out. More ropes to pull than in one of them fangled coloured-sailed boats, but Felix should have the hang of it by Sunday. Top chance for junior prize.
Humdinger
Just when you thought Jurrasic Park had gone straight to video, a dinosaur comes out of the shed. WA717's deck might be a showpiece of interesting woodgrain, but the Dinger is now sporting improved rags courtesy Ash Gabrielson, so style is everything! Stanbury has handed over the tiller to Pelican State champ and Busso junior Riley Nail, keen to beat his old man in Amber Dreams. Jeff Casselas on sheet, so virtually a local boat.
Impact
Can Dave Mann push Impact around the course and win a State title in it, which eluded brother Craig? Has all the credentials, solid starting technique but not a well known quantity on the bay. Could surprise..
Vita Brevis
Is anyone sailing as good as Ash, Lewie and Grinder? We doubt it, and the defending champions are keen to finish the season with at least the State silverware, having settled reluctantly for 4th at the Nationals. The boys are in serious form late in the season and we all know a happy boat is a fast boat. One thing's for sure, Ash's head will be spinning, looking out for Vern.
Bullit
Don't be surprised if Bullit's on the pace in Busselton. Currently between careers, Hutch has had long days of leisure to ponder his rig and tactics (has some books and someone saw him read one once). After Victoria, is now fully familiar with a top boat that has all the right settings. More girl-power on this vessel than the Spice Girls – Karina and Floss adding glamour to Hutch's savoire faire. Borrowed mast could be the achilles heel.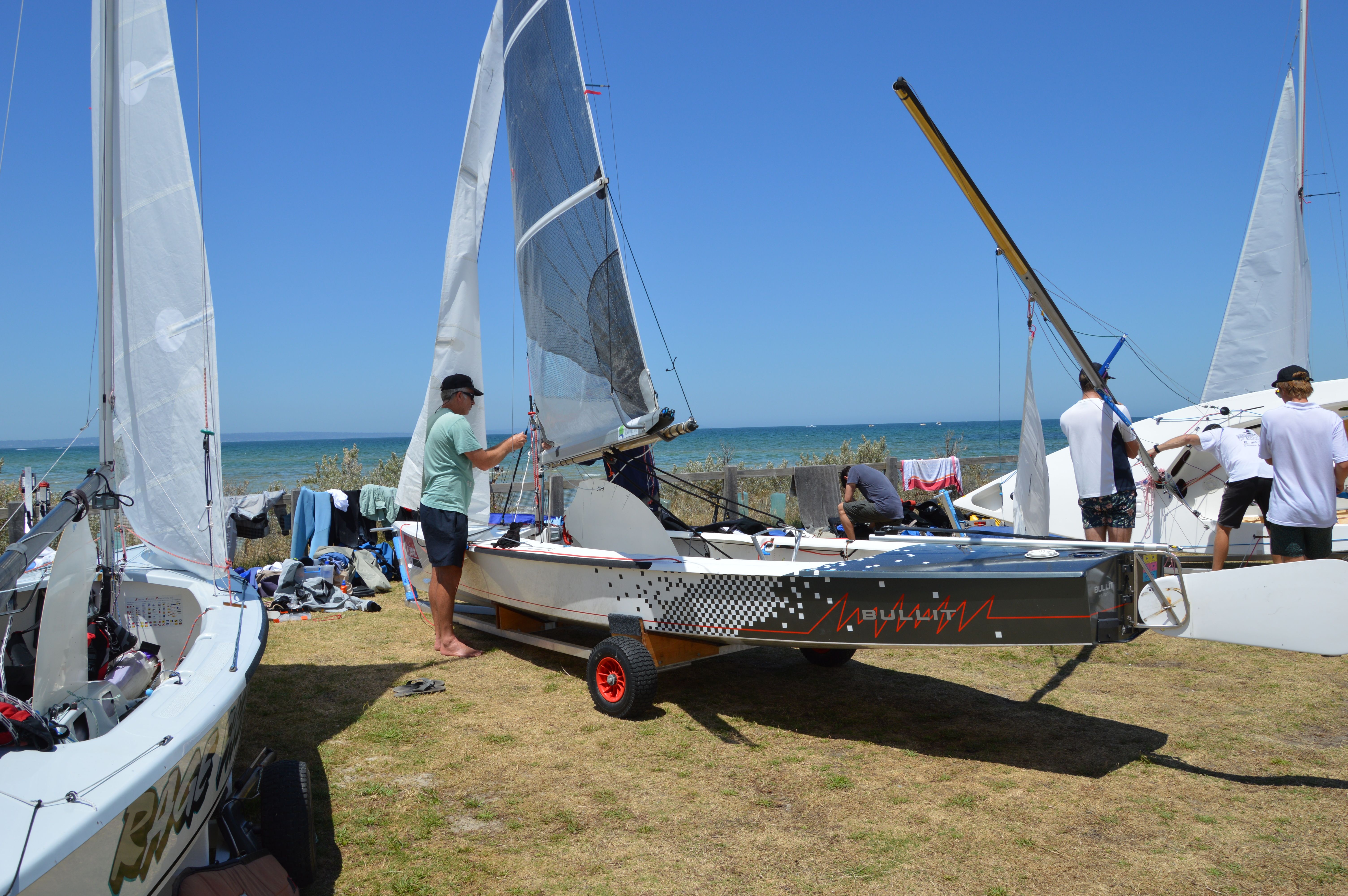 Blatantly Obvious
Vern's a four-time States winner, including once in Busselton, while brother Al's won one too in his own right, so watch out! Definitely will go head-to-head with Bullit for the chocolates. Rumoured to have a tall, light for'd hand, which should suit March conditions in Busso. Outrageous reputation for picking the right side in Busso, when all others in the fleet are confounded. Geographe Bay dark arts…
Suicide Blonde
With a new lineup and a few personal issues this year, it's been a 'development season' (a term usually used by the Dockers). Some moments of brilliance from Cuthbert and the crew, but can they put it all together this weekend, especially with Pete worrying about whether there's enough food and beer for all? That blue kite could be right up there at the top mark.
The Uninvited
Moz, Moz, Moz! Has shown flashes of brilliance by taking the chocolates locally several times this season, but communication is reportedly a concern aboard this sharpie. Can the big fella steer his way through the notorious Geographe Bay breezes to glory? Given local knowledge, a definite heat chance if they can string a few together.
Mainiacts
The United Nations boat of the fleet, with Mainy adding Croatian and German this year to his  fluency in the language of love, in order  to give instructions to crew members of European origin. For the States, Britta Kuhlenbeck on sheet and sharpie journeyman Chris Varty keen to prove his mettle on wire. Having sorted his spreader and rake issues, all that's left is for Mainy to do is shift his ample weight forward and concentrate on where he's going.
Duck Duck Goose
Don't be fooled by the novelty name – boat steered by Kate Olsen has pedigree, but some erratic outings in recent years confound the bookies. Expect a late surge on Sunday. Great to see lots of ladies in the fleet this States.
Amber Dreams
Best-performing Busselton boat at the moment. The crew have a concrete bond with the skipper and a highly-motivated new for'd hand. There's no question – Snow is a wily dog and will be keen to show any Perth skippers wanting to pee on his fire hydrant that he is the KING of Busselton at the moment! Definite smokie and should take out at least one heat.
BlackSun
When your father-in-law's the PRO, that's gotta be worth a few points even before you leave the beach! Dave Lightfoot will be in the top bracket this weekend, no question. Raw sailing talent – tick! Mordialloc swim-through champ Larry on trap – tick! Well coached in strategy by Sarah in the evenings – tick. What can go wrong?
Blind Date
It's been 26 years since Datie won a State Title, so we have to be honest – a long time between drinks, but you can't rule out Trev. He always looks flash on the water and already wins the prize for best maintained and shiniest boat. Sure to have hoovered not just the boat but also the Mandurah junior fleet once again to hire the most talented young crew to combine with his brilliance. Understood to be super-keen for this campaign and up for a win. All sheaves polished and oiled.
Origami Underwear.
Where did January and February go, while Origami's mast languished in Victoria? Matt Jahn waited it out, filling in his time with parenting and Moth sailing, while Alex focused on his first job out of uni. But the stick's back, it's in the boat and the boys are raring to go. Will the demon drink throw consistency out on Day 2?
Is it 2016 or 2017? What day is it? Which club am I at? Scottie Glaskin has been light-on for sharpie sailing time this season, but what the hell….there's no doubt he can mix it with the best and is getting to grips with the long boat's funny ways. Will he be at the start line as a late entry? And can the boat hold together? Who knows?
Vanquish
Can sail fast, but consistency a worry. The F1 driver of the sharpie fleet – stunning speed through several bends, then into the fence. But Ivanac is on the wire this time (too fat to steer?), with young gun Emily Wiltshire on the tiller, so who knows where they could finish. Vanquished…or Victory??
The Cows are Loose
Good to see a few older boats in the mix and a regular at the big series… Never rule out Brian Renfrey in the Cows. It's like a blue flash of lightning with significant wisdom aboard. Wild card.
Vicious
Kurt Johnson has to be acknowledged as always one to push hard. Likes the big prize and will be going for broke to uphold the boat's reputation.
Loaded Dice
It might take a couple of heats to wash out the dust, but Gordo knows his stuff. And if the wind drops, those SUP paddles will be whipped out and take him into the lead. Industry talk is that this will be a reminder that the boat's either FOR SALE or, if successful NOT FOR SALE! Welcome back to the true sport, Gordo.