With the World International Cadet Championships in Buenos Aires Argentina at the end of the year (Dec 26 –Jan 4), the UK national championship is one of the final times teams from the northern hemisphere will experience big time fleet sailing and gain experience before the major event at years end.
There is also a strong contingent of Australian sailors heading to South America for the regatta in an attempt to keep the world championship in Australian hands for another year. The last international cadet world championship was held on Lake Garda, Italy in August 2015 and was won by Tasmanians Sam Abel and Hugo Allison.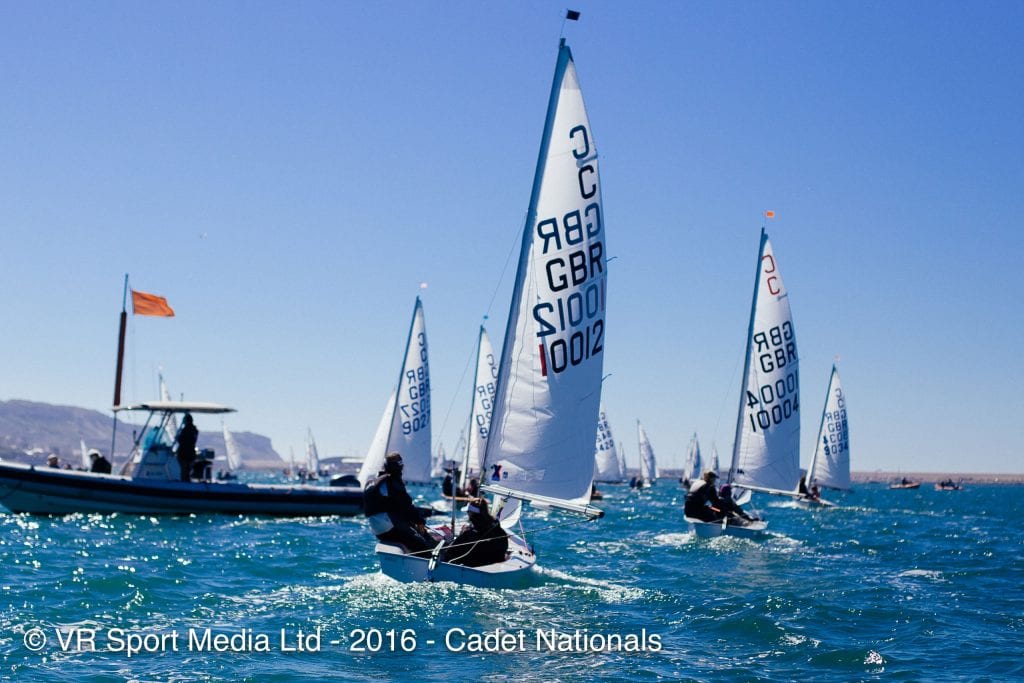 The Australian worlds team heading to Argentina is made up of 10 teams, six from Tasmania, two from Victoria and two from South Australia.
AUS 9532 BROTHERS IN ARMS – Dominic Randall & Elliot Hughes: Royal Geelong Yacht Club, Victoria
AUS 9778 IMPULSE – Will Cooper & Hugo Allison: Sandy Bay Sailing Club, Tasmania
AUS 9520 DROP BEARS – Charlie & William Zeeman: Sandy Bay Sailing Club, Tasmania
AUS 9430 STOLEN PIG – Fynn Sprott & Lawrence Jeffs: Sandy Bay Sailing Club, Tasmania
AUS 9428 TACKTICAL – Alyssa & Mitchell Kelsey: Port Lincoln Yacht Club, South Australia
AUS 9562 MELTEMI – Charlie Goodfellow & Toby Legg: Sandy Bay Sailing Club, Tasmania
AUS 9628 ITS PINK – Isabella Declerk & Adelaide O'Donoghue: Sandy Bay Sailing Club, Tasmania
AUS 9918 GODSCEND – Lily Zeeman & Anabelle Zeeman: Sandy Bay Sailing Club, Tasmania
AUS 9745 FULL SPEED AHEAD – Sam Paynter & Gil Casanova: Port Lincoln Yacht Club, South Australia
AUS 9616 CHECKMATE – Sophie Alexander & crew TBC: Royal Geelong Yacht Club, Victoria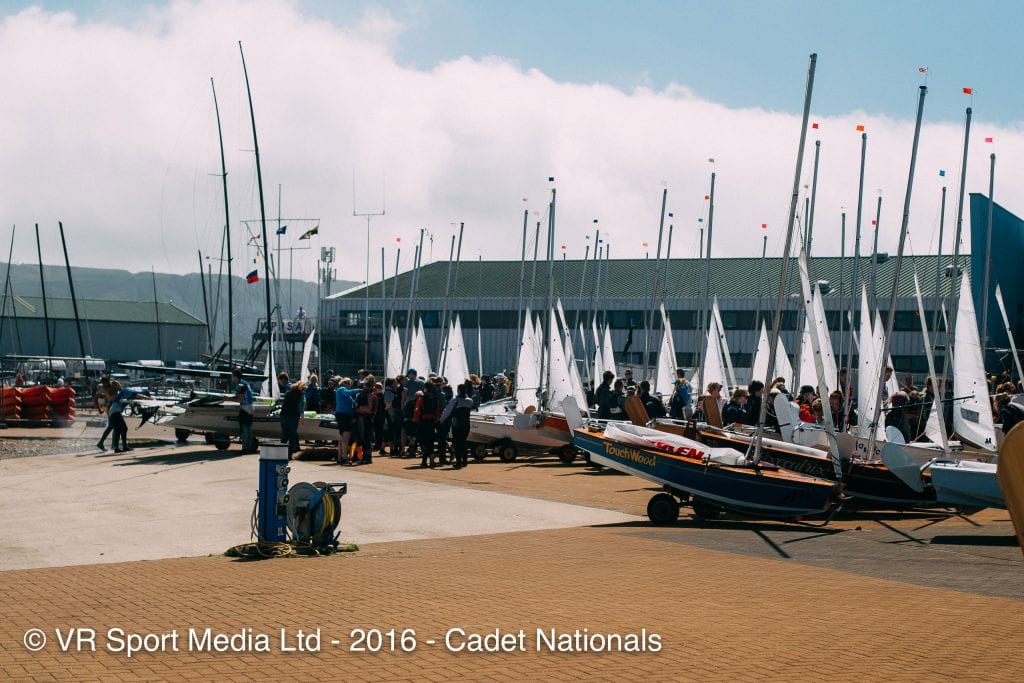 UK Nationals
In what is a great experience for the youth in the cadet class, the event was held at the Weymouth high performance centre, Weymouth Portland National Sailing Academy. This is a venue Australians know well from their success at the London Olympics in 2012.
The UK Nationals encountered fickle breezes not usually synonymous with Weymouth, however the PRO for the week, Arky Wainwright, did a fantastic job to get racing underway. After the first day it was probably the pick of the conditions and the GBR Worlds team, that held onto the first couple of spots, showed amazing form and also why they had been selected for team GBR. Jamie Harris, Hattie Colleridge, Ellie Wootton and Megan Ferguson are names sure to be at the pointy end of the fleet come Argentina.
Day 2 was an incredibly tough day for both sailors and PRO with the fleet being launched and sent in repeatedly until a fair course could be set. With 45-degree wind shifts it was a bit of a lottery but the Team GBR sailors Ellie Wooton/Amelia Mayhew and Megan Ferguson/Yasmin Sfaxi showed the way to take the overall lead.

Day 3 racing was again put on hold but no-one seemed too concerned with the day spent stand up paddling, wakeboarding on various inflatables and enjoying some rare UK heat. It must have tipped above 25 degrees! Nevertheless it shows what it's all about, kids running amok and having some fun.
The remainder of the regatta played out in good conditions with Jamie Harris/Antonia Wilkinson proving they will be the team to beat from GBR in Argentina. They put a stranglehold on the competition recording six race wins from the 10 heats, a massive result in ever changing conditions. Teams Wooton/Mayhew and Ferguson/Sfaxi took out the podium. With Wooton's sister Anna taking out the silver fleet with crew Imogen Mayhew. It was a great event and the teams are looking forward to battling the other countries, in particular Australia, in Argentina over the Christmas/New Years period.
Click here for the final results